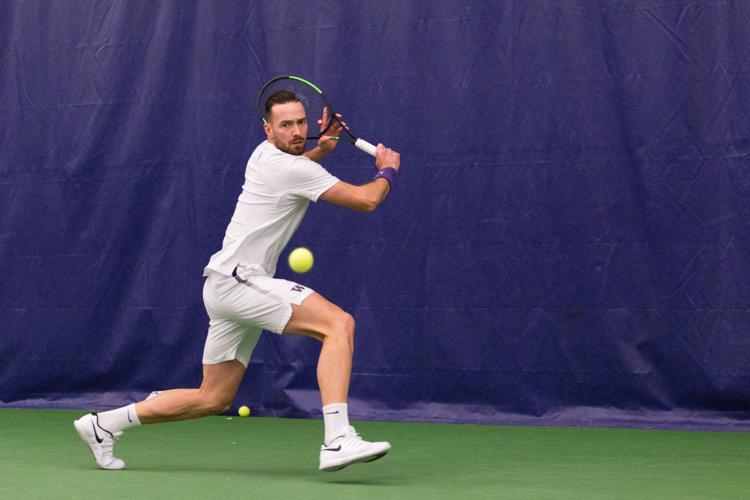 The Washington men's tennis team was defeated by No. 13 UCLA 4-0 on Saturday.
The Huskies (6-15, 1-5 Pac-12) have struggled with consistency away from home this season, and have now lost 12 straight road matches. A bright spot has been the balance of experience and youth this year for the Huskies, who have had three freshman earn spots in the singles starting lineup.
Senior Enzo Sommer has maintained the top spot in the lineup at No. 1 singles, but had a difficult task Saturday, going up against No. 21 Maxime Cressey. Sommer beat Cressey in a tough first-set tiebreaker 8-6, and was just starting the second set before the match was decided.
Sophomore Jack Davis faced another ranked opponent in No. 33 Keegan Smith, and was defeated 3-6, 0-6.
The Huskies struggled in doubles Saturday, with Washington's senior duo of Kawika Lam and Enzo Sommer losing at No. 2 doubles 1-6. The doubles point was then clinched for the Bruins, when the freshman pairing of Ewen Lumsden and Kasper Smith fell to Bryce Pereira and Patrick Zahraj 1-6.
Freshman Ernesto Turegano, playing at his usual No. 5 singles was losing 6-7, 1-3 before the match was decided; fellow freshman Ewen Lumsden, was losing to UCLA's Ben Goldberg 1-6, 5-4 before it was called. These two freshman now hold a combined 16-12 record in singles play.
Junior Piers Foley also fell to No. 49 Govind Nanda 5-7, 1-6 at No. 3 singles. Foley is now 11-9 in singles matches this season.
The Huskies will look to regroup as they return to Seattle and wrap up Pac-12 play with No. 41 California on Friday and No. 12 Stanford on Sunday.
Reach reporter Caden Conder at sports@dailyuw.com Twitter: @cadenmconder
Like what you're reading? Support high-quality student journalism by donating here.