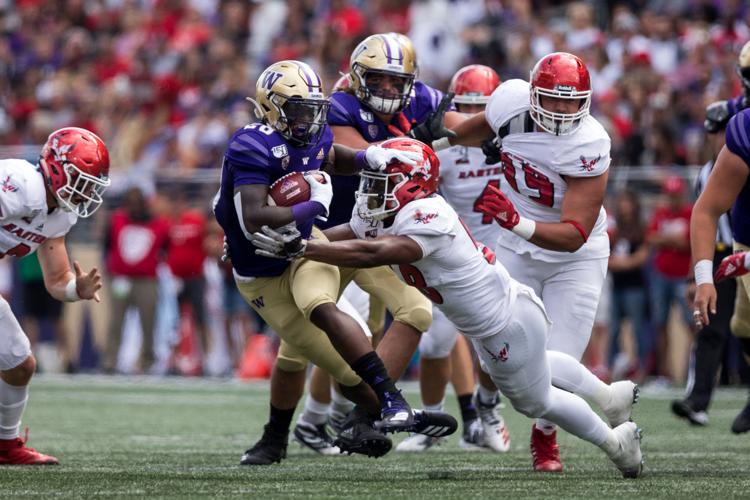 The section on the No. 14 Washington football team's media guide notes is simply titled "Youth."
The stat it describes is simple, yet more than a little mind-boggling: of the 106 players on the UW roster, 55 — over half — are either true or redshirt freshmen.
In the UW's season-opening win against Eastern Washington, the youth showed up. Ten true freshmen saw the field, along with 16 redshirt freshmen. 
In all of 2018, the Huskies played just 20 freshmen — 10 true and 10 redshirt.
But it's not just how many freshmen got to see the field; it's how so many could get to do so regularly. 
In 2018, none of the true freshmen started a game, or played enough to burn a redshirt. This year, that trend is already starting to shift after a good — and deep — Week 1, especially on defense.
"I think we had some ups and downs, some good plays and some bad plays," defensive coordinator Jimmy Lake said. "The nice thing was we got a bunch of freshmen out there playing, at linebacker, at D-line, at defensive back."
Chris Petersen has already said that the coaching staff expects to play a handful of true freshmen regularly, and Saturday on defense showed why. Cameron Williams got the start at safety — Washington's first true freshman to start a Week 1 game since Jake Browning in 2015 — and finished with four tackles. Aside from him, two other defensive backs — Trent McDuffie and Asa Turner — got in long before the game got to garbage time.
Around the rest of the defense, Saturday showed just how much of Washington's depth is going to be made up of redshirt freshmen. On the defensive line, Tuli Letuligasenoa and Sam Taimani were 40% of the five-man rotation the Huskies used most of the game. At linebacker, MJ Tafisi and Jackson Sirmon combined for eight tackles. In the secondary, Kyler Gordon earned his first career start, and Dominique Hampton was the first corner off the bench.
"They know that's what the standard is around here," Lake said. "That's how our defense plays, and we've got to continue to put that on tape. It's not just going to happen. They've watched the guys before them that were in their shoes, and they watched how fast and how physical they played, and they know that's the expectation if they're out there."
The youth movement extended to the offense, though maybe to a bit of a lesser extent. When Nick Harris went down with an injury, it was redshirt freshman Matteo Mele replacing him at center. Later, Victor Curne got action at right tackle; with Henry Bainivalu out, he could be Washington's second man off the bench after Henry Roberts. 
And of course, Richard Newton probably had the best day of any freshman, with 91 rushing yards and a touchdown.
"That's the first real snaps that he's had," Petersen said on Monday. "I think he answered the bell. I think all this, kind of like you get out of the gate your first game it's kind of like a quiz, sort of speak."
Petersen added that if the past Saturday was a quiz, this next game against Cal is more of a midterm. Going up against a Pac-12 foe, the snaps for freshmen may dry up a bit. But all signs point to the Huskies continuing to ride the wave of youth for the rest of the season.
"It's a growing process," Lake said. "It was nice to make a couple of mistakes in a win. Hopefully we'll learn from those mistakes, and then we can make some new mistakes and not make those same mistakes this Saturday."
Reach Managing Editor Josh Kirshenbaum at sports@dailyuw.com. Twitter: @J_Kirshenbaum
Like what you're reading? Support high-quality student journalism by donating here.