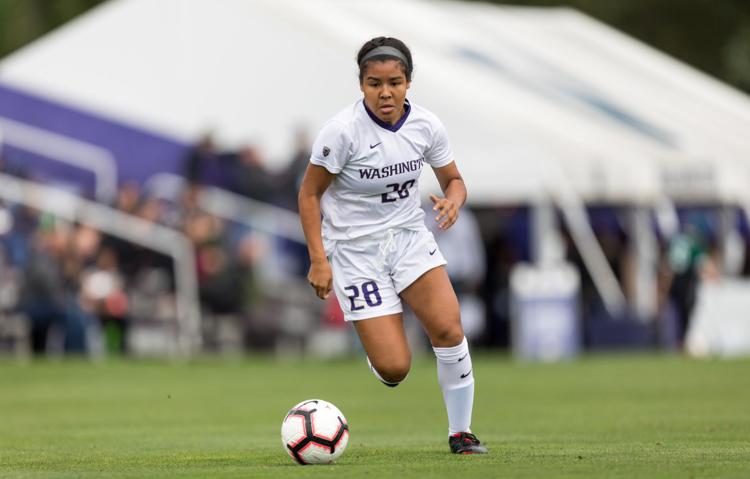 On the heels of another losing season, Washington women's soccer coach Lesle Gallimore has one goal for her squad in her last season leading the purple and gold. 
"We want to get back to the tournament."
The last time the Dawgs were in the NCAA tournament was 2015. She's made the tournament 14 times in her 25 years as head coach and despite three straight years without a postseason berth, this team has the pieces to end that drought.
The Huskies have 10 starters returning from last season's squad, and only lost three seniors from the 30-women roster. But those three only contributed 6.4% of the team's total minutes played.
The biggest hit will be from the departure of forward Pascale Dumesnil, a senior that was tied for second in goals scored a year ago, but another year of experience and training could help fill that void.
"I think on the attacking side of the ball, our experience is a little bit more now," Gallimore said. "The comfort of some of these players playing with each other is better than it was a year ago. I think we have healthier, more versatile moving parts in our attack than we had before." 
The scoring was not a strong suit of last year's team, only seeing the back of the net 25 times through 19 games, which was the tenth best in the Pac-12. With all the returning players, and with freshmen and more sophomores entering the fold, there's going to be a lot of competition for playing time, especially in the attacking half.
"Competition within the team is great for the team," Gallimore said. "It's something that we've —  particularly in Pac-12 games — lacked over the past couple of years, it's sort of that fire to want to be the goal scorer, fire to want to be an attacking threat, no matter where you are on the field."
A couple of attackers to watch going into 2019 include a pair of sophomores looking to build on successful freshman campaigns. The first is Summer Yates who launched in three goals in her first year on Montlake and started 14 games. The other is Makena Carr, a player that only recorded one assist and seven shots in her 16 games played, but has impressed since the end of last fall, according to Gallimore. 
Although there may be some shuffling between midfielders and forwards, the midfield will once again feature Olivia Van der Jagt, the UW's leading goal scorer from a year ago with six. Ameera Hussen and Sianna Siemonsma both return for their junior season after recording a pair of goals a year ago as well. 
The defense will see the return of a pair of Huskies who suffered season-ending injuries a year ago. Shae Holmes and Jessica Udovich were injured last season, and will miss the beginning of 2019, but the hope is that they'll return at some point. Holmes will play at some point this season and Gallimore is hopeful that Udovich will return and see game time sometime in the nonconference season.
Taylor Sekyra, Kaylene Pang, Lisa Jensen and Laura Roberts, who all saw the most time on the backline in 2018, all return and may have to fight for their spot once Holmes and Udovich return to the field.
The last line of defense, goalie Siena Ruelas, started every game for the Huskies a year ago and even her position may have some competition surrounding it with senior Anna Miller and sophomore Dani Hansen. Hansen actually split time with Ruelas in the spring season, playing the second half of every game.
The defense as a whole allowed 25 goals a year ago, which was the third most in the Pac-12. There will likely need to be some tightening up on this side of the ball as well if the Dawgs want a chance to return to the end of the NCAA tournament come November.
"I think as individuals and collectively you'll see our team much more battle-tested and they understand what it feels like to come out on the short end," Gallimore said. "They also understand what it takes to come out on the good end. That'll be something that helps us in that journey back to the NCAA [tournament]." 
Washington heads to Spokane for an exhibition match at Gonzaga on Friday at 5 p.m. to help prepare for its first game in which it will host Portland on August 23 at 7 p.m.
Reach reporter Josh Eddy at sports@dailyuw.com. Twitter: @JoshTreEddy
Like what you're reading? Support high-quality student journalism by donating here.