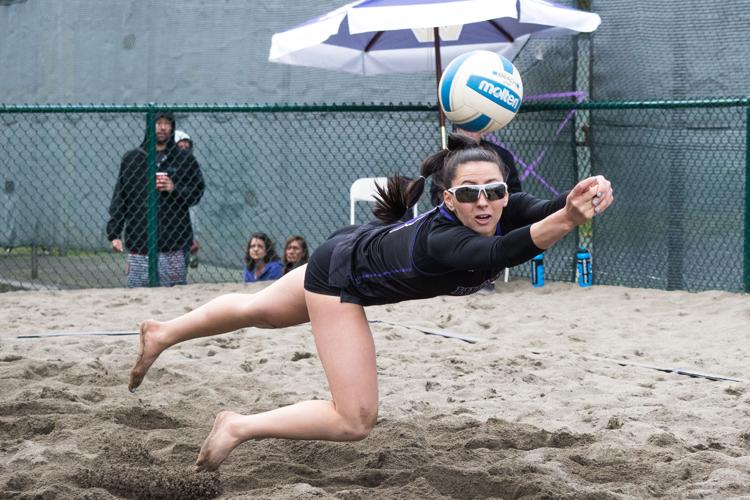 Feb. 5, 2014, the city of Seattle celebrated the Seahawks winning their first Super Bowl. That day, Shayne McPherson was in the crowd at the parade before going home for another celebration: verbally committing to play indoor and beach volleyball at the UW.
At the time, McPherson was a sophomore outside hitter at Kennedy Catholic in Burien, but she didn't expect to play outside of high school. The average height of an NCAA Division I outside hitter is 6-foot, and McPherson is only 5 feet, 6 inches.
She was an immediate starter in her freshman year, but in a new role at libero, the first true freshman to start at that position for the Huskies since 2002.
"I never really thought of coming here to play outside," McPherson said. "I always knew my role would be libero."
While she played libero on and off when she was younger, the bulk of the experience McPherson carried into her new defensive role at Washington came from beach volleyball.
"She originally came here to play beach volleyball and her senior year we said, 'Hey, we need you to play both right away,' and changed her from a beach scholarship to an indoor volleyball scholarship," indoor volleyball head coach Keegan Cook said. "She actually has been a phenomenal beach player for us as well."
The Washington beach volleyball team played its first season only two months after McPherson verbally committed. Its home base is Alki beach in West Seattle, where McPherson grew up.
"I grew up on a beach, and I have a beach court which I'm very thankful for, because I played every day and that shaped me into the athlete I am now," McPherson said.
McPherson doesn't use most of the hitting skills that were important to her high school indoor career anymore, at least not when playing inside, but she does use a lot of what she learned on the beach in her role as libero.
"Putting in every component of the game into beach is really important," McPherson said. "In indoor I dig and pass and set some, serve some, but in beach you get to do everything. Pass, set, hit, maybe block if I'm up there and my blocker is down, which is really fun."
Those skills have been necessary not just in her role as libero, but also as an out-of-system setter when freshman Ella May Powell can't get to the ball. McPherson has the second most assists per set of any non-setter player in the Pac-12, and it's close, with 1.11 per set to WSU libero Alexis Dirige's 1.13.
Playing beach volleyball has allowed McPherson to better understand the indoor game. As libero, it's her job to see the whole court and make sure her teammates know what's going on in the game.
"I think it's helped me see the game better, see and move well," McPherson said. "I can look at the hitter or know what my hitters need when I'm setting out-of-system. Beach has helped me a lot because I'm setting a ton of balls in beach. Especially in the beach, you have to be super confident and vocalized so that's helped me become a leader."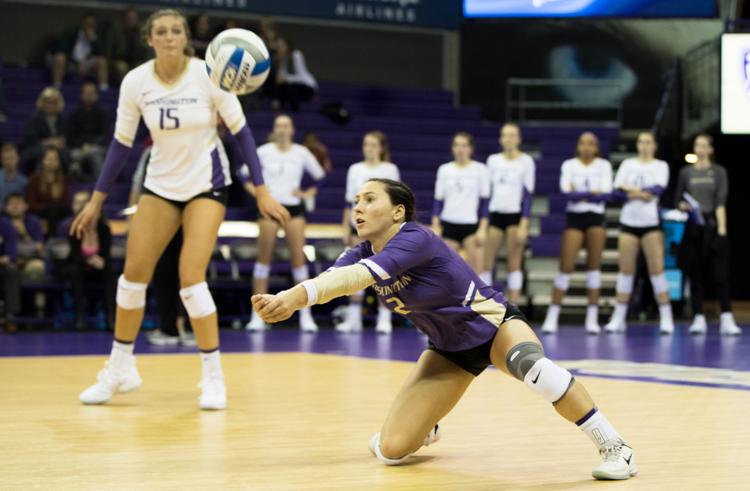 As one of Washington's four upperclassmen, McPherson has to take on a greater leadership role this season, but it's something she did from the start as libero. The toughest part of the transition from playing outside hitter in high school for McPherson was being constantly on the court and communicating with teammates.
"It was really hard for me, just because I had to be very vocal," McPherson said. "I was touching the ball almost every play. There was a lot of pressure on me."
Consistent playing time has bred confidence for McPherson. She spent her true freshman season at libero, before transitioning to a defensive specialist role in her sophomore year. Now back at libero, she's leading the team from the back row. Washington's style of play this season has required gritty defense, and McPherson is at the forefront of that.  
"Shayne has played pretty much every minute that she's been here," Cook said. "The same role she's in now as a junior, she was asked to do as a freshman and it was a lot. It's a lot. She's just a different player now than she was two years ago. Her confidence, her consistency in serve receive, how much energy she brings –– it's really fun to watch her like this."
Reach Social Media Editor Hailey Robinson at sports@dailyuw.com. Twitter: @haileyarobin
Like what you're reading? Support high-quality student journalism by donating here.