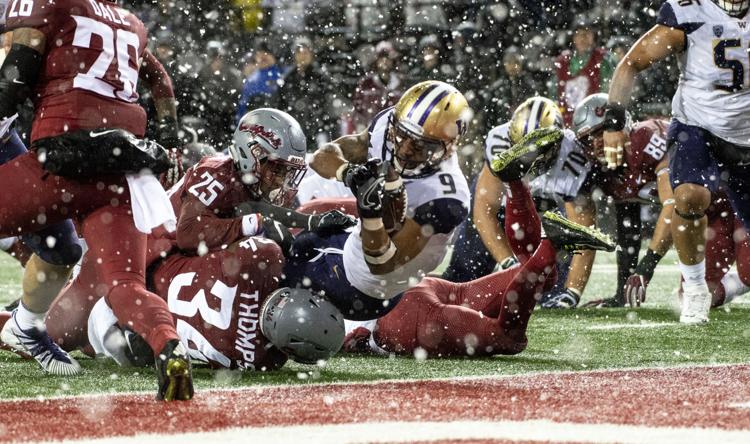 PULLMAN -- Just when you thought all the records were his, Myles Gaskin went and did it again.
Already with the program record in rushing touchdowns and career yards, Gaskin became just the fifth Pac-12 to ever rush for 5,000 yards. On the Pac-12 career rushing list, he is now solely in third place with 5,131 yards.
Oh, and he became the first player in Pac-12 history to rush for 1,000 yards in four separate seasons. No one has ever done that before. Not Reggie Bush, not O.J. Simpson, not LaMichael James, no one.
Not a ton of tailbacks have played four seasons as the feature back, but that makes what Gaskin has accomplished all the more impressive.
"Myles is my favorite football player of all-time," senior linebacker Ben Burr-Kirven said. "He came in here, no one knew who he was, he was a low recruit. He's come in and changed the program, the way he works and the way he cares about every guy. I mean, that dude is Husky football. I'm so blessed I got to spend my four years here with him and it's always going to be an honor I got to share the field with that guy."
In his latest game against No. 8 Washington State, Gaskin torched the Cougars for 170 yards and three touchdowns. His 80-yard touchdown run in the fourth quarter would seal the game, and propel him ahead of LaMichael James and Ken Simonton for third all-time in rushing yards in Pac-12 history.
"That ranks as number one right now because it just happened," Jake Browning said of the run. "It's pretty hard to keep track of all the plays after four years."
With two games left in play, including the Pac-12 Championship and a bowl game, Gaskin could be on pace for even more records as he looks to further cement his legacy as not only a UW legend, but a Pac-12 one as well.
Reach Assistant Sports Editor Alec Dietz at sports@dailyuw.com. Twitter: @AlecDietz
Like what you're reading? Support high-quality student journalism by donating here.