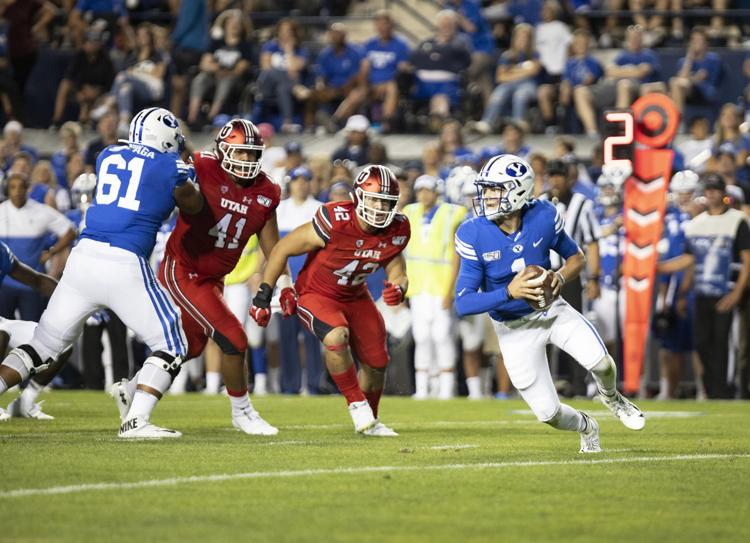 Before Saturday's game, we had the chance to ask some questions about BYU football of Aaron Fitzner, the Sports Editor at the Daily Universe. Here's what he had to say:
How high is this BYU team riding right now after overtime wins at Tennessee and against USC last week? 
The team's confidence is incredibly high after the last two weeks. Two overtime wins against two power-5 teams is impressive, especially considering one of those games came in SEC country. Overtime wins are exciting, but I think the team would prefer to put the excitement of those two wins behind them and focus on a win against No. 22 Washington, in regular time.
How has Zach Wilson improved in his second year in the system as the starter? 
Zach Wilson came into the 2019 season with a lot of very high expectations surrounding him. In the season-opener against Utah, Wilson's performance was considerably worse than what many expected to see. The last two games, however, have been a different story. BYU fans have seen a glimpse of what Wilson can be. It was expected that he would be an accurate passer, but his footwork and ability to make plays have been game-changers for the team. It's no surprise that his two best games resulted in two wins. 
BYU's defense is giving up 4.75 yards per rush, and over 200 rushing yards per game through three games this year. How would you grade the Cougar defense so far this year, especially the run defense?
 In all fairness, I have been severely underwhelmed by BYU's run defense. The rush defense ranks 119th in the country, which is obviously bad, but even worse when you consider that only 130 teams are on that list. I was impressed with the defensive line against USC, but they're going to need to reach a new level if BYU is to have any chance against Washington. Too many holes are being created by opposing offensive lines, allowing the runner to get more yards than needed. Reinforcements from linebackers and the secondary will need to meet the runner much quicker than they have in the first three games for BYU. 
LaVell Edwards Stadium features natural grass as its playing surface, have you seen any effect on opposing teams who are used to playing on turf like the Huskies this year or in years past? 
I don't notice much of a difference with the natural grass playing surface come game time. I think that most players would prefer natural grass because they don't leave the game with turf burn, but aside from that, I don't think there are any noticeable differences in gameplay.
Do you have a score prediction? 
As for a score prediction, I've got to go with the Cougars say 30-23 for BYU.
You can stay up-to-date on all things BYU sports on Twitter at @DailyUnivSports, and follow Aaron at @AaronFitzner. 
Reach Sports Editor Alec Dietz at sports@dailyuw.com. Twitter: @AlecDietz
Like what you're reading? Support high-quality student journalism by donating here.