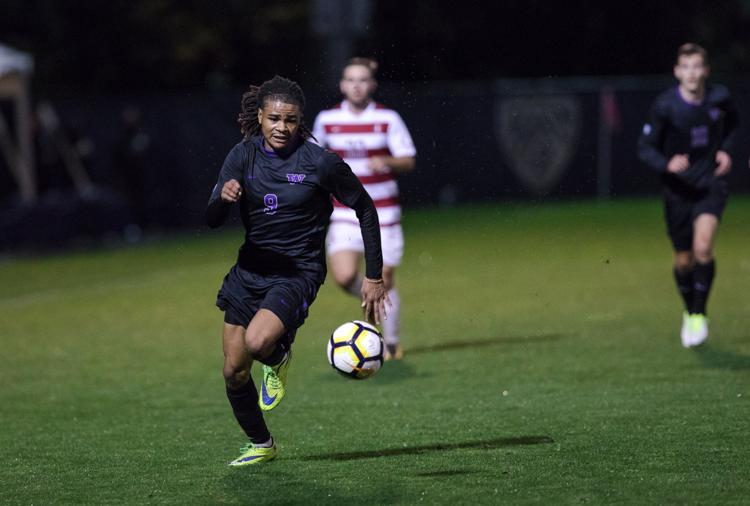 The No. 23 Washington men's soccer team is entering the home stretch of its season. Currently sitting at No. 3 in the Pac-12 standings, they may need to sneak into the top two to ensure qualification for this year's NCAA Tournament, which they reached the third round of last year.
To do this, it will need to win out with three games to play, and that starts this weekend, when they will travel to California to rematch San Diego State Thursday, and then will play UCLA for the second time this year.
"We gotta go on the road the rest of the year, and we haven't had a lot of success on the road this year," head coach Jamie Clark said. "So that's our first challenge is to try to find points on the road in a little more hostile environment, so seeing if we can find a way to have the same focus and belief on the road as we do at home."
This past Sunday, Washington won 3-0 against California, with all three goals scored in the last 15 minutes of the match. It all started when Cal had issues with substitutions, causing them to play with 10 men while the Huskies scored their first goal of the contest, and the floodgates opened from there. Clark talked briefly about the strange play, and how he and his team try to deal with officials.
"It was a weird situation, and I don't know which bylaws they're reviewing, but they'll figure it out," Clark said. "I'm probably overly vocal on the sideline and need to make sure that I'm just focused on our own team's tactics and play, to be honest. I think we talk about making sure that we're not on the wrong side of silly plays. I always say that there's no such thing as a fight on a soccer field, and there really isn't. So don't pretend to be overly tough, play the game properly and honestly, but at the same time make sure that if there's physical challenges that you go down and get fouls called." 
On Oct. 5, the Huskies made quick work of the Aztecs, winning 3-0, with sophomore midfielder Handwalla Bwana, redshirt junior forward Kyle Coffee, and freshman midfielder Blake Bodily each scoring goals. Three weeks later, SDSU is still winless in the Pac-12 and only 2-5 at home, in what has been a disastrous season for them. However, Washington has not won at SDSU since 2014, losing a 1-0 double overtime result last season and tying 1-1 the year before that.
"Historically, we have struggled there," Clark said. "Even in good years for us we've not had as much success, so it's embracing that battle first and not believing the first result has anything to do with the second result, so we gotta earn it all over again and we earned the first win through really good pressure and quick ball movement. So can we replicate that? We hope so." 
The UW lost their first match against UCLA this season by a 1-0 overtime result Oct. 8. 
"I thought that was just a tight game that didn't end up going our way," Clark said about the UCLA match. "We've had a couple of those losses from set pieces, but we have to be singularly focused on San Diego State first and then if we win that, then we'll have momentum going into that one and if we don't, it will be a lot of time to refocus, so we're singularly focused on Thursday at this moment."
Their season has also not gone according to plan, as they currently hold a 6-6-1 record and a 3-2-0 record in Pac-12 play. They lost their most recent contest to the University of San Diego by a 3-1 score. 
The Huskies' matchup with the Aztecs begins at 7 p.m. Thursday, and their matchup with the Bruins begins at 5 p.m. Sunday on Pac-12 Networks.
Reach reporter Chris Angkico at sports@dailyuw.com. Twitter: @chrisangkico