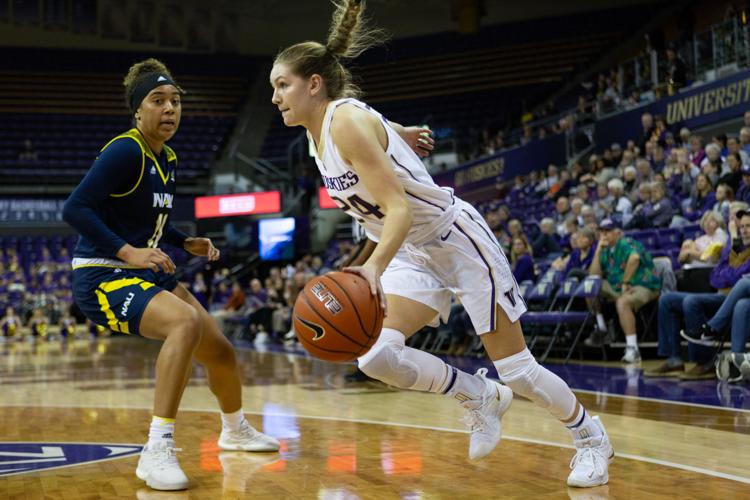 Starting its season with two home games — and two wins — has got the Washington women's basketball team feeling good early in its season.
Now the UW doesn't play at home for the rest of the month, and begins a 10-day road trip in the South this weekend.
Starting with a true road game against Tulane in New Orleans, La. on Sunday, the Huskies (2-0) will then move on to the Gulf Coast Showcase tournament in Estero, Fla.
"It's going to be a long trip but it's going to be a fun trip," head coach Jody Wynn said. "It's a chance for us to get away and continue to build our identity."
Washington will take on its third undefeated team in a row in the Green Wave (2-0), who are coming off a 56-54 upset of LSU on Thursday. In its first game Tulane had a staggering 31 turnovers against Texas Southern in a close win. In their game against the LSU, they dropped that number by 20 and finished with just 11 turnovers.
The Huskies have seen those sorts of turnover numbers, but are much more focused on themselves headed into their long road trip.
"Now that we have film and we have the film of how we've guarded against other teams it's getting easier to pinpoint exactly what we need to work on," senior guard Jenna Moser said.
After Tulane, it's off to Estero for the Gulf Coast Showcase, which features some of the best teams in the nation in No. 11 Texas, No. 16 Missouri, Michigan, and Duke. Washington's first matchup will come against the perennially good Blue Devils (1-1), who are off to a rocky start this season after losing their opener against Northwestern.
"We know the pool," Moser said. "We know in general that they are all really high-quality teams. The biggest thing when preparing for a tournament is mental toughness and being focused for that many days in a row, and that many games in a row."
Again, the focus is on the Huskies as tournament-style play is some of the most unique circumstances in sport. While the Dawgs know they'll play Duke in the first game, they won't know who they'll have to prepare for the rest of the way. The Huskies just know they don't want to be on the loser's side of the bracket.
"We like it, we purposefully went to this tournament it's an amazing tournament," Wynn said. "There's an incredible field of talent. Tournament-style play is always really special. It kind of prepares us for three games in three days which we could see in March."
Off to a strong start already, now Washington's mettle will be tested in tournament play against some tough teams in what could be a huge barometer for how the season is going to go.
"Through these three-hour practices we need to make sure everyone is locked in," Moser said. "Because that lapse could be a lapse in a quarter or a full lapse during a whole day. Staying locked in is always a big point of emphasis."
Sunday's game against Tulane is at 2 p.m. PT in New Orleans, and the Gulf Coast Showcase will tip off against Duke the following Friday at 10:30 p.m. PT.
Reach Assistant Sports Editor Alec Dietz at sports@dailyuw.com. Twitter: @AlecDietz
Like what you're reading? Support high-quality student journalism by donating here.