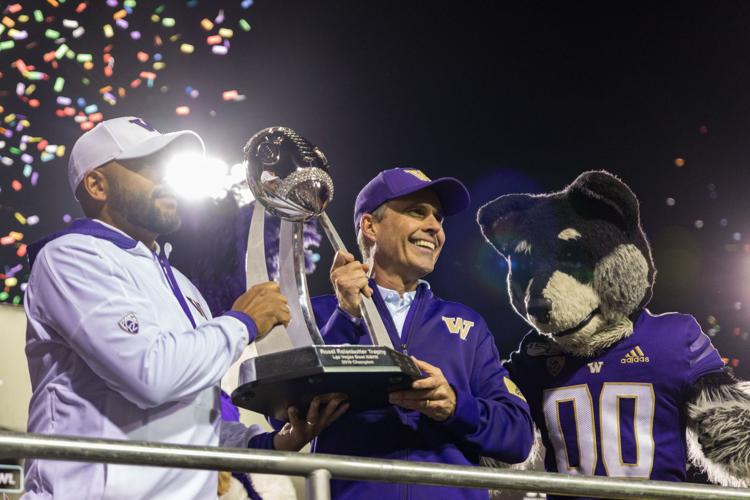 LAS VEGAS — It wasn't the College Football Playoff. It wasn't the Rose Bowl. It wasn't even the Holiday Bowl. But the Washington football team finally ended its season the way it wanted to in a 38-7 win over No. 19 Boise State. 
With pomp and circumstance — it was in Las Vegas, after all — and distractions galore, the Huskies played perhaps their best bowl game in years.
Leading from start to finish, the Huskies exit the Chris Petersen era as winners, and with positive momentum for the first time since 2015. 
And we all remember what happened after that year. 
With incoming head coach Jimmy Lake now at the helm of the Washington football program, players and staffers alike expressed their excitement for a new future. 
"I feel probably the best out of everyone," junior nickel Elijah Molden said. "I've seen what he's done for DBs and my class and the class before me. He's learned a lot from Coach Pete like he's said so many times and we're going to carry on that tradition."
That tradition includes a .679 winning percentage at Washington, three straight ten-win seasons, and two Pac-12 championships. Petersen took the Huskies from a perennial seven-win team to a conference and national title contender in less than five seasons at the helm. 
Now, the keys are in place for Lake to take it a step further. 
"I think they can be tremendous," junior quarterback Jacob Eason said. "I know coach Lake is going to do an outstanding job, we have a lot of guys coming back. We're losing a few guys but I know these young guys have started to make their mark this season and they are going to continue to do that next season."
He could start his tenure with a new quarterback and several other starters missing, but a young defense with nine new starters from a year ago and an offense that is likely to feature several key contributors from this year has the Huskies excited about what could come of the Lake era. 
Asked of whether he has thought about making staff changes, the first-time head man could only say that he would "revisit that here in the future." 
And that future is coming soon for the UW. A future without Petersen and his nearly impeccable track record of success, but with a bowl victory against a top-20 opponent. 
With an incoming head coach that has sent his fair share of players to the NFL draft. With a staff that secured every single one of its 23 recruiting targets in the early signing period after losing its head coach. 
Time will tell if the Lake era will be more lucrative and successful than Petersen's. But the 14 year veteran and program leader is fairly confident that stepping away, and putting Lake in charge, was the right thing to do for the program. 
And Petersen hasn't given anyone a reason not to trust how he can run a program. Why stop believing now? 
Reach Sports Editor Alec Dietz at sports@dailyuw.com. Twitter: @AlecDietz
Like what you're reading? Support high-quality student journalism by donating here.