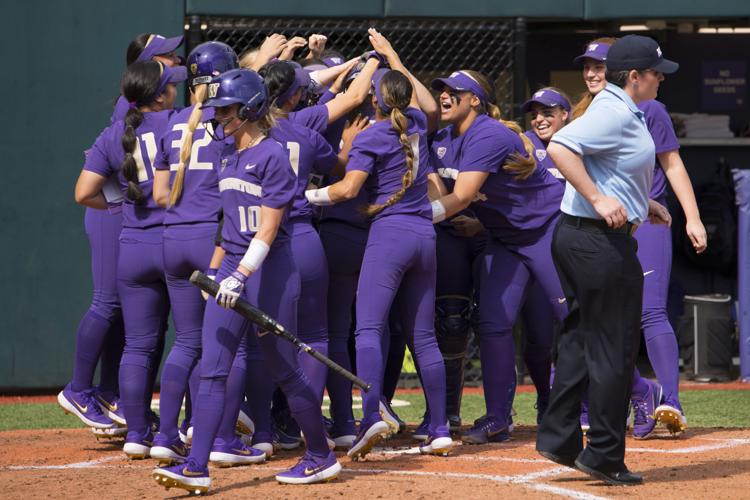 After the top of the lineup delivered the offense for the No. 2 Washington softball team Friday night, it did the same on Saturday — albeit with a bit more flare — in a 6-1 win over Mississippi State.
Junior catcher Morganne Flores took MSU starter Emily Williams deep twice, both times driving in junior shortstop Sis Bates. The blasts were her 19th and 20th of the season; she now has six career postseason homers.
"It's important that the best players on the team do the things that the best players do," head coach Heather Tarr said. "Sis and Morganne did that today."
Bates led off the bottom of the first inning with a bunt single to start the Huskies (46-7, 20-4 Pac-12) off right for Flores.
"I was just trying to see a pitch I could handle," Flores said.
Her pitch selection wasn't the most orthodox, but Flores handled it nonetheless, turning on an offspeed pitch at her eyes and sending it over the wall in left field.
Two innings later — again following a Bates lead-off single — Flores straightened it out a bit, powering her second home run to the batter's eye in straightaway center.
It's Flores' fourth multi-homer game of the season. She also hit two homers in the UW's first super regional game against Utah in 2017.
Through two games in the regional, Bates and Flores are a combined 7-for-11. Flores has driven in six of Washington's eight runs so far; four of those were Bates and two were herself on homers.
"For them to lead us these last two games in those ways says a lot about them, where we're going, and what we're trying to do," Tarr said.
The middle of the UW order provided the rest of the scoring on the day. In the bottom of the second, Emma Helm led off with a double and came home on a pair of groundouts. In the bottom of the sixth, Madison Huskey singled, went to third on a Helm knock, and came home on a Taryn Atlee RBI.
Helm went 3-for-3; she, Bates, and Flores combined for seven of the UW's nine hits.
In the circle, senior Taran Alvelo earned her Pac-12-leading 25th win of the season with a complete-game win. Mississippi State's only run of the day came on a Kat Moore home run to lead off the top of the second, but Alvelo (25-4) bounced back with two groundouts, a strikeout, and five more scoreless frames.
Going back four seasons, Washington has won 11 straight regional games. Now the Huskies just have to wait to see who they'll face Sunday at 6 p.m. The Bulldogs (34-22, 9-15 SEC) will face the winner of the elimination game between Seattle U and Fordham; whoever wins that will survive to play Sunday.
"We'll wait to hear," Alvelo said. "Then we'll assess and move forward at that point. We're taking care of ourselves, we're doing what we need to do to make sure we're there tomorrow and all in."
Reach Sports Editor Josh Kirshenbaum at sports@dailyuw.com. Twitter: @J_Kirshenbaum
Like what you're reading? Support high-quality student journalism by donating here.