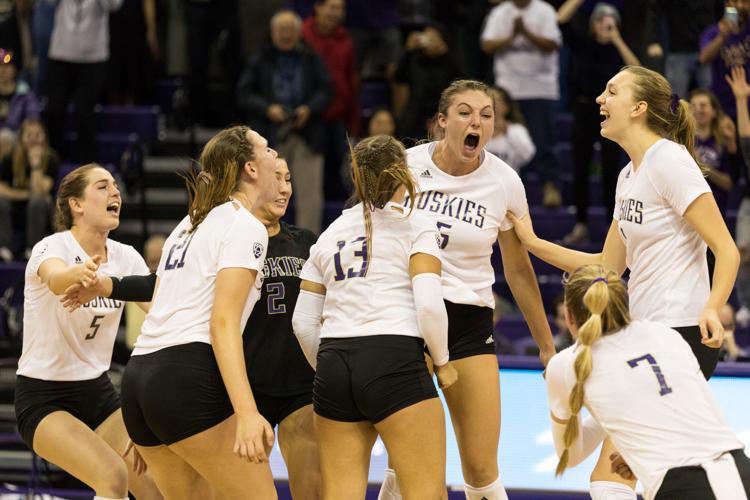 "My voice is going to be gone tomorrow," junior defensive specialist Emma Calle said. 
After a game like the one the No. 13 Washington volleyball team played, that might be true for most of the 2,665 people in the crowd too. 
A fifth set in volleyball usually goes to 15 points. By the time the Huskies were done, this one ended far beyond that, 21-19. After every save at match point, and every ball the Huskies scored, it got louder inside Alaska Airlines Arena. 
It was the kind of match that meant more than just the W in the record books. While players were still loudly celebrating, head coach Keegan Cook came out of the locker room visibly emotional.
"I'll play with this team anywhere, against anybody," he said. "A lot of intangibles that are hard to articulate. Obviously a classic match, and a memory I think our kids deserved for how much work they've put in. It would've been fine either way in that fifth set, just playing hard and getting after it, but to have something happen like that is pretty special."
It was a match the Huskies almost didn't win. No. 15 Utah dominated the second and third sets, and there were parts of the tiebreaking fifth set in a game that would break the tie for second place in the Pac-12 where it looked like it might go the same way. 
The Utes took a 4-1 lead in the fifth set, but the Huskies managed to tie it up with two blocks and an ace. Then, Utah managed to gain a 12-8 lead on the Huskies. When the match was 14-11, the Dawgs needed three straight points to stay alive. 
Three kills by senior outside hitter Kara Bajema did the job. The Huskies stayed alive. 
"I think a switch turned on and we were like 'We're not losing this game,'" Bajema said. "You could just tell by the way we were touching balls by the net, and being relentless on defense. We were down 11-14, and we showed we weren't going to quit."
The Dawgs stayed alive for three more Utah match points, with the roar of the crowd behind them. 
"That was for sure the best home environment we've had this year so far. Not only environment but just passion," Cook said. "We were hoping they would show up on a Sunday afternoon and we were hoping they'd come watch this team play."
For Washington, this match was the culmination of the hard work the team has put in this season. It was exactly the team the Huskies want to be: a team that shows up in big moments and does things the right way. A team that gets through a long, hard set with five blocks, three aces, and a win.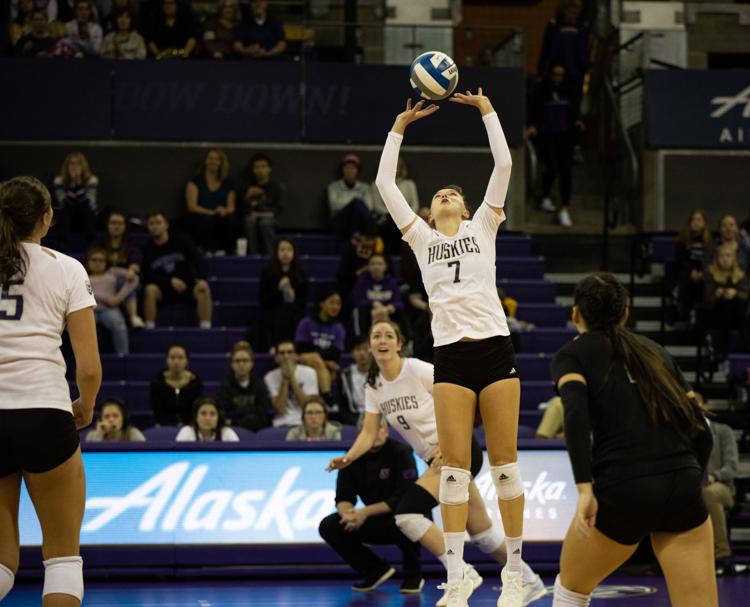 "You see the end product here, that's a lot of hours behind every play," Cook said. "Some of those blocks at the end were unbelievable. That serve by Claire at the end was pretty unbelievable. Just Kara, you're looking at four years of hard work."
The Huskies had five games left before tournament time, and this was an important one. Utah is the highest ranked team the Huskies have beat since they defeated Stanford in the first week of Pac-12 play, and likely will be the highest ranked opponent they face until December. 
"We talked about this being a December match, just the physicality and the quality of opponent," Cook said. "We've addressed every team as they are. Sometimes we talk about playing every match the same but you can't kid a kid. They know when they're up against a quality opponent. This match was important." 
Next week the Huskies head to the Desert. They'll face Arizona on Friday at 6 p.m. on Pac-12 Networks, and Arizona State on Sunday at 11 a.m. on ASU's livestream. 
Reach Engagement Editor Hailey Robinson at sports@dailyuw.com. Twitter: @haileyarobin
Like what you're reading? Support high-quality student journalism by donating here.