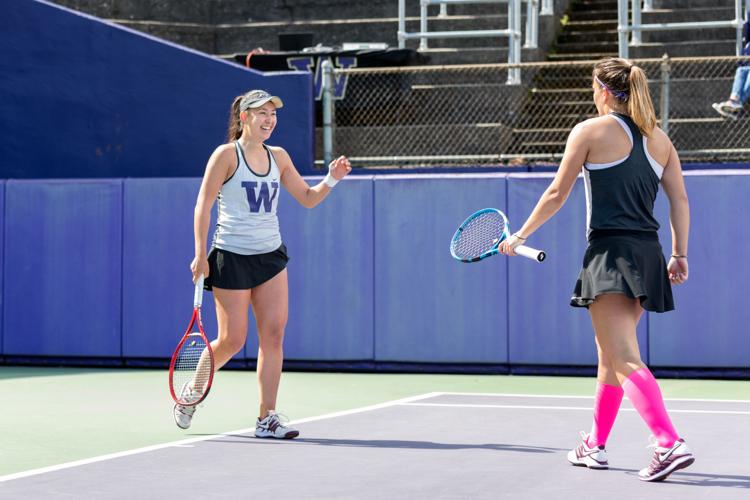 The Washington women's tennis team defeated No. 35 Washington State 4-1 to wrap up its conference slate Saturday afternoon.
The Huskies (18-3, 8-2 Pac-12) finish the season tied for second in the Pac-12, with the most conference wins in program history. Their 18 total wins is the most for the program since 2009.
Saturday's match began with the Cougars winning the doubles point and taking an early 1-0 lead. No. 30 Stacey Fung and Nika Zupancic were defeated 2-6 at No. 1 doubles by No. 47 Tiffany Mylonas and Hikaru Sato.
The Huskies came back strong in singles and won all four of their next matches to clinch the win. Senior Stacey Fung had to fight at No. 1 singles after losing the first set to No. 32 Michaela Bayerlova 3-6. Fung would come back to win the second and third sets 6-2, 6-2, and pull off the big upset.
Sophomore Vanessa Wong won another three set match at No. 2 singles, defeating Hikaru Sato 6-1, 2-6, 7-5. Wong has now totaled 23 singles wins this season, the highest of any player on the Husky roster.
Freshman Nika Zupancic clinched the match for the Huskies in their third three set match of the day, beating Melisa Ates 4-6, 6-3, 7-5. After losing the first set, Zupancic was able to keep her mental composure and continue to grind away at her opponent to secure the victory. Zupancic finished conference play with a perfect 6-0 record in singles.
The Huskies now head to the Pac-12 Championships which start this Wednesday in Ojai, California. Seeding for the Pac-12 tournament will be finalized early next week as conference play wraps up this weekend.
Reach reporter Caden Conder at sports@dailyuw.com Twitter: @cadenmconder
Like what you're reading? Support high-quality student journalism by donating here.