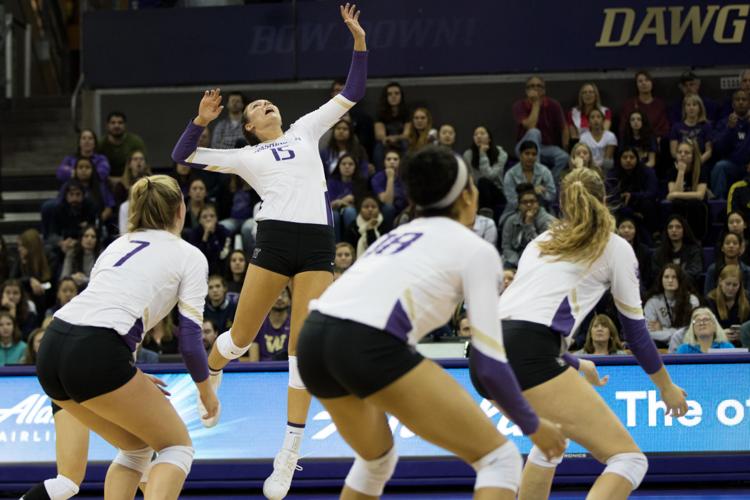 Last season, the No. 13 Washington volleyball team had a relatively slow start, not just in competition but in practice as well. A big freshman class had to get settled in, and that came with some growing pains. 
This year, things are starting off a lot faster. 
The Huskies lost only one senior to graduation and added three freshman, half the size of last year's freshman class. A more experienced group means that they can jump right in where they left off last season. 
"It's nice because you get to start with more intense drills and your six-on-six has a bit more meaning and fluidity to it," senior Kara Bajema said. "Versus, last year we had to have one or two more days of working on the basics."
The Huskies finished last season as the No. 18 team in the country, sweeping Creighton on its own court to make the Sweet Sixteen. This season, they're starting off at No. 13, and that's a result of returning an entire roster of players with deep tournament experience. 
"We have quite a few third and fourth year players who have been through a lot and they've played in some big matches, they've played in the tournament late, and they seem like they're here with a good purpose and a good focus," head coach Keegan Cook said. "A lot of people that we know as opposed to last year when we were trying to teach six new athletes how to do our thing."
A head start in practice with the experience from last season could also mean a head start when it comes to nonconference play, which would be especially beneficial for the tough lineup the Huskies will face in the first month of the season. Washington is scheduled to face No. 6 Illinois, No. 18 Creighton, and No. 21 San Diego, and will play a home-and-home with No. 5 Wisconsin. 
Last season, the Huskies went .500 against ranked teams in nonconference play, beating then-No. 14 San Diego twice to start the season and losing to both Illinois and Pittsburgh. Those were Washington's only two nonconference losses. 
This year, the nonconference slate is arguably tougher, but the extra year of experience could be the determining factor in a higher success rate against top-ranked teams as the season begins. 
Washington's three freshmen, libero Sianna Houghton, setter Olivia Mikkelsen, and middle blocker Sophie Summers, are keeping up in the fast paced practice environment as well. 
"Our freshman this year are doing a really good job of fitting in right away and taking everything head on," Bajema said. 
Reach engagement editor Hailey Robinson at sports@dailyuw.com. Twitter: @haileyarobin
Like what you're reading? Support high-quality student journalism by donating here.