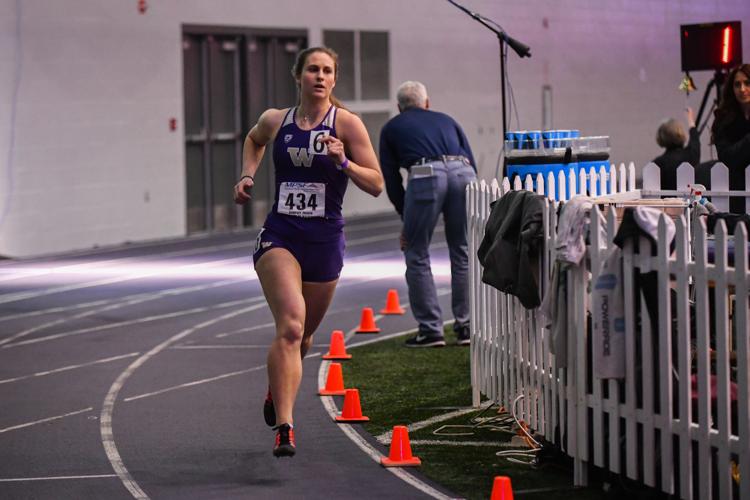 A few athletes from the Washington track and field team traveled south to the Bryan Clay Invitational to take on the multis competition. Sophomore Hannah Rusnak was the big story, crushing the UW school record for the heptathlon.
Heading into the last event, the 800-meter race, Rusnak sat in second with a score of 4,905. The UW school record for the women's heptathlon was 5,266, set by Sonja Forster in 1992.
With just 361 points needed to break the record, it seemed like a formality going into the last race that Rusnak would become the new school record leader. It became official once she stepped across the finish line.
The sophomore finished the race in eighth with a time 2:26.50, earning her 737 points to reach and shatter the previous UW record. The new watermark for the purple and gold? 5,642 points, an increase of 376 from the record set 27 years ago.
Rusnak set personal records in five of her seven events. The standout's most notable improvements were an 11.36-second improvement in the 800 meters and a 9 feet and four inch boost in the javelin.
Additionally, Rusnak finished the 100-meter hurdles in 13.80 seconds, with wind aid. She launched her new record in the high jump to 5 feet and 5.75 inches, and grabbed a PR of 24.69 seconds in the 200 meters.
Despite not winning a single event, she finished third in the pool of 16 participants. Consistency was the key to the result, with Rusnak never dipping below eighth in any event and getting third in four events.
Competing alongside Rusnak was Ida Eikeng a redshirt freshman, competing unattached. Eikeng actually edged out Rusnak by 28 points, but it's not an official school record since she was unattached.
Two other Huskies went to the Bryan Clay invitational, one being junior Elinor Jones Toutant who competed in her first ever heptathlon, and finished fourth in her group.
Jones Toutant reached personal records in the high jump, shot put, long jump, 800 meters and 200 meters races. Her biggest improvement of the day meet was in the javelin, where here 15 feet and 2 inch gain won that event for her.
Parker Kennedy was the last UW athlete to compete today. His efforts in the decathlon landed him an 11th place finish in his group. Kennedy ended up winning the pole vault by clearing 14 feet and 5.25 inches, along with six other competitors.
Reach reporter Josh Eddy at sports@dailyuw.com. Twitter: @JoshTreEddy
Like what you're reading? Support high-quality student journalism by donating here.