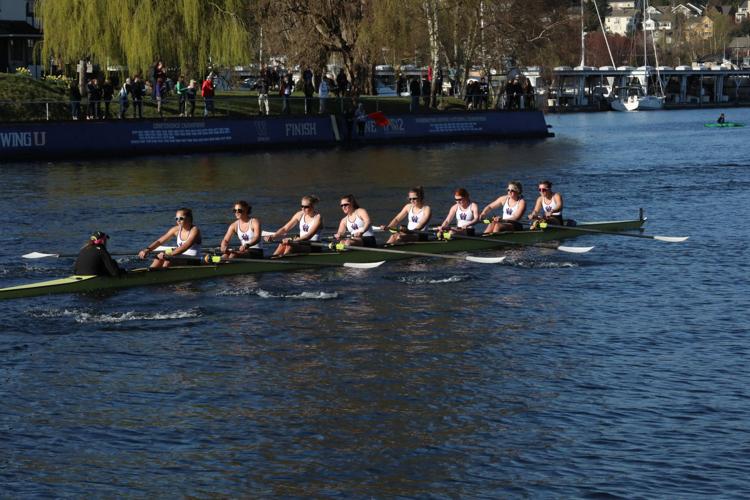 The No.1 Washington women's rowing team emerged victorious against No. 5 Michigan and No. 6 Ohio State in the varsity eight and second varsity eight Saturday morning on Lake Las Vegas.
The Huskies competed at the same venue for the second time in seven weeks, while rowing to victories in the two eight races and finishing second in the first and second varsity fours.
Michigan raced out to to lead with an excellent start in the varsity eight race, but the Huskies moved in front by the 250 meter mark. Coxswain Marley Avritt guided the Huskies to a boat-length lead going into the final quarter of the race. Washington crossed the finish in 6:18.84, ahead of Ohio State (6:22.89) and Michigan (6:28.71).
The closest race of the day was the second varsity eight race, especially for second and third place. Senior cox Amanda Durkin's boat closed the early gap and the UW moved in front shortly after the halfway point.
Washington's second varsity eight captured the win with a time of 6:25.95, with Ohio State finishing second with a time of 6:27.51 and Michigan coming in third at 6:27.59.
The first varsity fours race marked the final race of the day. Michigan grabbed the lead from the start and maintained a half-length lead through most of the 2,000 meters. Washington made a late push in the final 250, but the Wolverines prevailed in 7:05.68 over the Huskies' 7:07.53. Ohio State finished 10 seconds behind Washington for third place.
The second varsity four only included the Huskies and Buckeyes. Ohio State led from the start and finished with a time of 7:20.60, about three seconds ahead of Washington (7:23.92).
Washington faces No. 2 California in the annual Cal Dual next Saturday on Montlake Cut. May 4, the following Saturday, will be the annual Windermere Cup/Opening Day Regatta.
Reach reporter Evan Wong at sports@dailyuw.com. Twitter: @evan_wong29
Like what you're reading? Support high-quality student journalism by donating here.