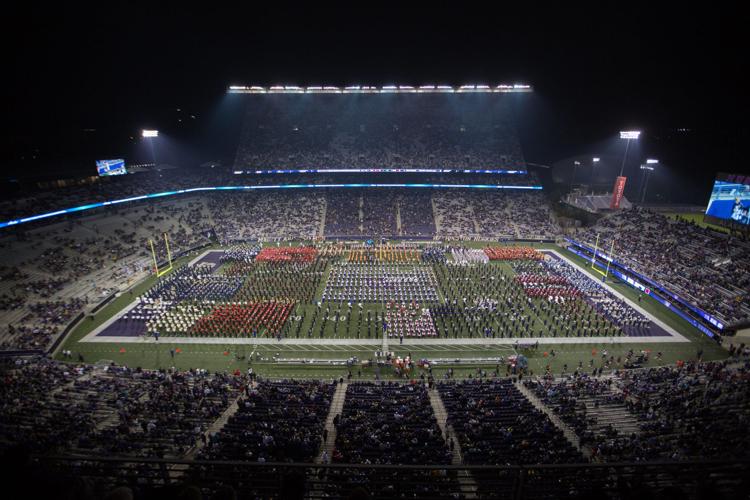 For over half a decade, the Husky Marching Band has welcomed high school bands to take the field at halftime of a Washington football game to perform for thousands of UW fans. This year, 34 high school bands will join the HMB for the 66th Annual Band Day.
Washington's Band Day is the longest continuous running band day in the country. The event began with just high school students, taking the place of the Husky Marching Band before they returned for the school year.  
"Even though today we cover the first game just with students and alumni that live in the area, back then they decided to bring in usually three to four high school bands," Brad McDavid, director of the Husky Marching Band, said. "Those bands would perform at pregame and halftime in place of the Husky Band because the band hadn't reported yet. That's how it started."
In the 66 years since Band Day began, it's morphed from just three or four bands performing in the halftime show to between 30 to 35 joining the Husky Marching Band and performing together. It's a coveted event for local high school marching bands, who have to apply in the spring, and there's a waitlist every year.
"It's an event that really excites kids that are on fire for marching band," McDavid said. "It also excites kids who had never been on our campus before. It kind of opens the door to them being introduced to the UW. It also excites the kids who have grown up as Husky fans."
Band Day isn't just an exciting day for the high schoolers who participate, but also the Husky Marching Bands biggest recruiting day. They're able to bring hundreds of high schoolers and prospective band members to campus and give them a taste of what it's like to play at a Washington football game.
Many of those high schoolers end up at the UW, and audition for marching band.
"I took a hand count of the incoming freshmen who were selected this last weekend and about half of the freshman class at some point in their four years in high school participated in band day," McDavid said.
There's no specific theme for the Band Day show, but McDavid and his staff selected a variety of music. On the setlist they have a patriotic song, two pop songs, and an arrangement from "The Greatest Showman." They'll close, of course, with Bow Down To Washington.
"The high school directors like their kids playing a lot of different types of music and many of the high school bands will continue to play the band day music throughout the course of their football season. So that's why we select songs of a lot of different styles," McDavid said.
Reach Social Media Editor Hailey Robinson at sports@dailyuw.com. Twitter: @haileyarobin