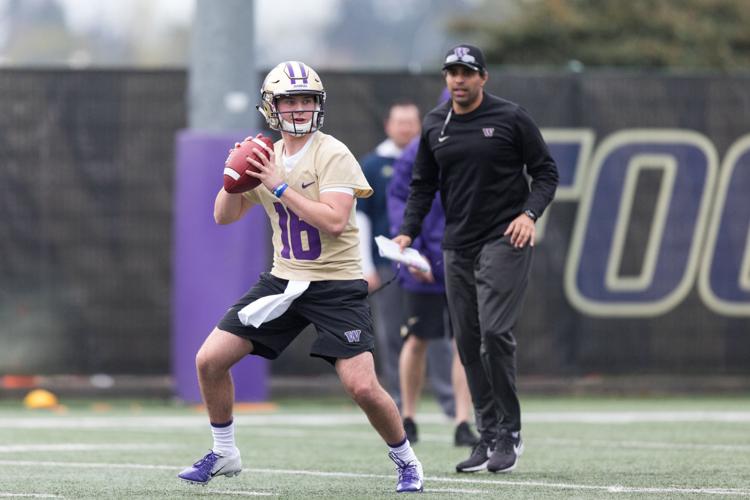 One of the Washington football team's first defensive drills of spring practice started normally enough. Eleven men lined up in formation, with a coach holding a ball as the center.
Then the ball was snapped, and the defense ran away.
Well, not so much away, but not to any imagined ball carriers either. Instead, the group broke to where the line of scrimmage met the sideline, swarming around another coach as fast as possible. Then they broke the huddle, turned around, and ran across to the another coach on the other side of the field. Then twice more, completing a rectangle the width of the field long and maybe 25 yards deep.
Not exactly anything fundamental. Just pure hustle.
"It's playing fast; it's not going to be perfect by any stretch of the imagination, there's going to be some mistakes," tight ends coach Jordan Paopao said after Washington's first practice of the spring. "On Day 1, you just want those guys competing. That's one of the big things in the room right now, just putting your best foot forward in terms of pure competition right now, especially for the reps that are up for grabs."
Of course, there were plenty of more traditional drills run Wednesday morning, both in position groups and against an opposing side. But with plenty of familiar faces gone, from Drew Sample and Myles Gaskin to Ben Burr-Kirven and four starting defensive backs, it was very clearly the beginning of a new year on the field.
"I really felt it was like business as usual, next guys up," head coach Chris Petersen said. "We've been through it for the last three months or so with those guys not here in the weight room and team meetings. Certainly the first couple team meetings you come into, it feels weird with all those guys not being here… They'd been around a long time."
The most-talked about replacement going into the season has been, is, and will be how the Huskies will replace Jake Browning under center. Redshirt sophomore Jake Haener is the only quarterback returning with any playing experience with the UW, but highly-touted transfer Jacob Eason will be eligible after sitting a year out, Colson Yankoff and Jacob Sirmon are coming off their own years learning the offense, and true freshman Dylan Morris enrolled early to get into the program as fast as possible.
"It's hard at that position," Petersen said. "If you have three quarterbacks, it can be hard. That is the one position that we can never truly get enough reps for."
Nobody won a job Wednesday morning. Odds are, nobody will win one at Washington's practice Friday. But on a day that the coaches stressed was about effort, it was a chance for everyone from the returning starters to the early-enrolled freshmen to begin to put a best foot forward.
"We're all about sustained consistency," Petersen said. "We will have spring MVPs for sure. I don't know if it's going to be one guy, or 10 guys.
"That's why it's so much fun to go back and put the tape on, and really analyze what's going on. But that is what we're looking for, guys that really jump out, starting Day 1 and doing it through the next 14 practices."
Other notes:
The first takeaway of spring ball went to a true freshman, as middle linebacker Josh Calvert picked off Haener in the day's first session of 11-on-11 drills. On the next play, the offense muffed a hand-off, with Brandon McKinney recovering the fumble. Dustin Bush had the only other takeaway, picking off Yankoff later in the practice.

Chico McClatcher was back in action for Washington, going through drills with the wide receivers. McClatcher, who's 2017 season ended early due to injury, played in eight games last season before stepping away from the team for personal reasons. "It's awesome having Chico out there," Petersen said. "I just like being around Chico, first and foremost."
Redshirt sophomore transfer Corey Luciano, in his first day of practice at Washington, took a couple of snaps at center during the last period of 11-on-11.

Senior wideout Aaron Fuller didn't participate in most drills, and was without a helmet for the entirety of practice. However, he did field punts in a later non-live drill. Petersen said he had a medical problem that required "a little procedure done that is not major," and could return later in the spring. DJ Beavers, on the other hand, will be out until the fall.
Reach Sports Editor Josh Kirshenbaum at sports@dailyuw.com. Twitter: @J_Kirshenbaum
Like what you're reading? Support high-quality student journalism by donating here.