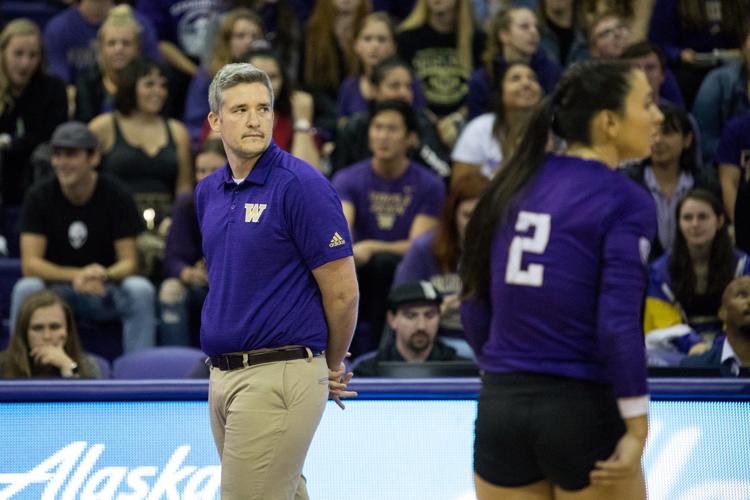 The No. 8 Washington volleyball team got off to Pac-12 play on the wrong foot, falling to Washington State 3-1 (25-22, 22-25, 20-25, 20-25). 
The Huskies were outhit and outblocked, but, most significantly, outserved. Washington State topped them seven aces to six, and minimized service errors as well. The WSU serve succeeded in getting Washington out of system and off its game, especially in the third and fourth sets. 
The Huskies sided out at only 50%, indicating that their passing wasn't at the level it was in nonconference season. They were anticipating a tough serve from Washington State, who currently leads the Pac-12 in aces with over two aces per set, and they were met with one. 
Senior Kara Bajema was the only Husky in double digits in kills, with 19 kills for the third straight match. She also had three aces, half of Washington's total. 
Washington got off to a strong start in the first set, pulling away from a close game with two four-point runs to overtake the Cougars pretty easily. But the next three sets wouldn't be so easy. 
Although Washington looked good on paper in the second set, the team couldn't seem to get ahead. It was the start of a momentum shift for Washington State, and the Huskies wouldn't see the momentum of the game tip back into their favor for the rest of the night. 
The Cougars dominated the third and fourth sets, and Washington couldn't seem to find its game. The Dawgs had 10 attack errors in the third set, and hit only .125 in the fourth set. 
Washington had 65 digs in the game, matching its total for second most digs in a game this season. Senior libero Shayne McPherson was responsible for 25 of those digs, the most she's had in match this season. Sophomores Shannon Crenshaw and Ella May Powell also added nine each. 
The Huskies will play Stanford at 2 p.m. on Sunday. The match will be broadcast on Pac-12 Networks. 
Reach Engagement Editor Hailey Robinson at sports@dailyuw.com. Twitter: @haileyarobin
Like what you're reading? Support high-quality student journalism by donating here.