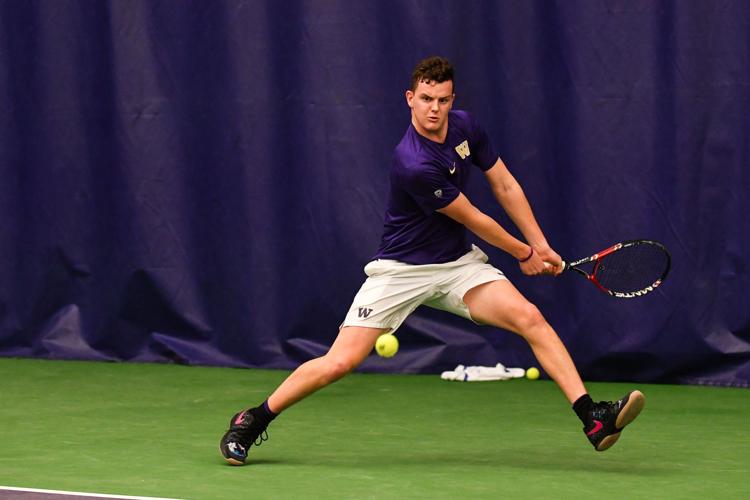 The Washington men's tennis team opened its dual-match season at home Saturday, facing off against Portland at the Nordstrom Tennis Center and coming away with a 6-1 victory. 
The Huskies (1-0) started off strong and earned the doubles point, after the duo of Piers Foley and Jack Davis won 6-4, while the new combination of freshman Ewen Lumsden and Senior Enzo Sommer breezed through their doubles match in a 6-0 victory.
In singles, the Huskies dominated, winning five of six total matches. One of the exciting singles matches of the night involved Foley, whose long rallies and exciting points thoroughly entertained the crowd on hand Saturday night.  
Foley attacked his opponent all match with aggressive groundstrokes and consistent serving success. After Portland tied the second set at 5-5, Foley turned on the burners and finished out the match with a break and hold of serve, clinching the match for the UW with a hard-fought 6-4 7-5 victory.
 "Today was amazing," Foley said. "We're trying to get better and gain experience from every match. It's great to be together again as a team with the crowd behind us fighting for every point."
There was not much rust shown in the season opener for the Huskies, and Coach Matt Anger was pleased with his team's performance and work ethic.
"It's good to get the first match under our belts," Anger said. "The game nowadays is very physical and all the way down the line, our guys played hard." 
Ewen Lumsden, Ernesto Turegano, and Adam Torocsik all made successful UW debuts on Saturday, as all three freshman earned their first wins in the purple and gold. Kasper Smith, Washington's fourth freshman was held out of the match as a precaution with arm tightness.
"We're a pretty young team, but I like our future," Anger said. "We just have to keep moving and keep getting better."
Next up for the Huskies is the ITA kick-off weekend Jan. 25. The Huskies will be competing to punch their tickets to the ITA National Championships in Chicago later this year.
Reach reporter Caden Conder at sports@dailyuw.com. Twitter: @cadenmconder