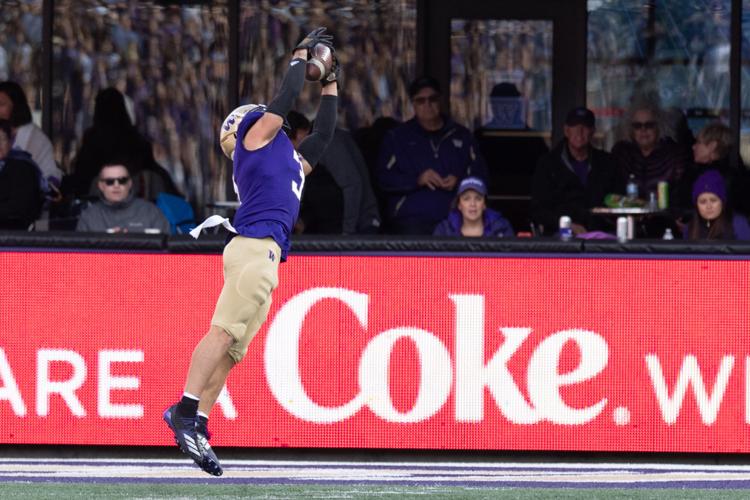 Enough has been made of the No. 17 Washington football team's past struggles in the red zone. On Saturday, it was time for the defense to inflict some trouble near the red zone.
No. 21 USC moved the ball nearly at will for much of the second half, racking up 270 yards and three plays of 35 or more yards. But once the Trojans got to the red zone, the well dried up in a 28-14 UW win.
USC got inside the UW 20-yard line on two drives in the second half. The Trojans ran eight plays in the red zone, including five inside the 10-yard line.
They ended up with zero points from them.
"That's awesome," senior middle linebacker Kyler Manu<CQ> said. "That's big."
So what went right for the Huskies (4-1, 1-1 Pac-12) deep in their own end? It ended up being a combination of a shortened field, a couple USC mistakes, and big-time plays when Washington needed them.
"The game changes," junior defensive back Elijah Molden said. "The playcall changes. We prepared all week for red zone situations, so I think we played it well."
USC's first trip to the red zone was a short one. The Trojans got as far as the UW 10 before Matt Fink threw a slant that Molden — dropping back into coverage in the middle of the field — was able to go up and bring down. 
It was the junior's first career interception, and was only made sweet two plays later when Salvon Ahmed slipped throw the line and hit the outside for an 89-yard touchdown.
"Between the turnover and Salvon letting one rip, you could feel the tide shift," Molden said. "We were talking about it in the locker room, if we get a turnover and then we score, it's going to be game over."
But it wouldn't quite be game over right then and there. USC stayed in it, and midway through the fourth quarter was driving once again deep into the Husky side of the field. Down 28-14, Southern Cal got it to first-and-goal from the UW 7, a touchdown away from making it a one-possession game.
From there, Washington — which to that point was allowing 11.7 yards per carry in the second half — stuffed USC for runs of 2 yards, 1 yard, and 2 yards. Facing fourth down from the 2-yard line, Fink lofted a ball too far to the corner of the end zone for London Drake, with Myles Bryant in coverage. The pass fell incomplete, and the Huskies held firm yet again.
"It was just understanding that we have to protect the end zone," Bryant said. "For them to get down there, they had a couple big, explosive plays, but I think our guys just stepped up big and understood that we couldn't let them in there."
Through five games, opponents have gotten into the end zone on 56% of red zone trips against the Dawgs.
And as it happened, those two stops today ended up being the difference; turn both possessions into touchdowns, and a two-touchdown win gets narrowed down to a tie.
"We talked about how our playmakers had to show up," defensive coordinator Jimmy Lake said. "We said, 'We need to put on a show for these fans,' and our guys made plays — fourth-down stops, interceptions — made those critical stops in those critical moments. I can't be more proud of these guys."
Reach Managing Editor Josh Kirshenbaum at sports@dailyuw.com. Twitter: @J_Kirshenbaum
Like what you're reading? Support high-quality student journalism by donating here.