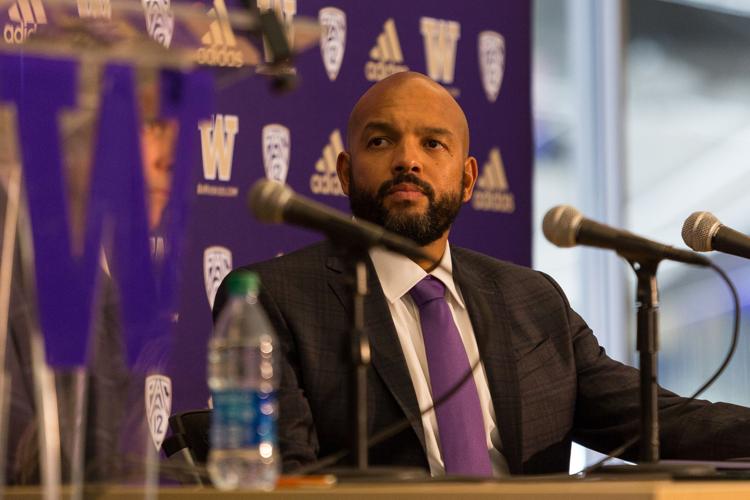 The beginning of the end of the Chris Petersen era began with the sixth-year head coach's nightmare. Instead of being on a field, with a whistle and a playsheet, working with players, Petersen was at a press conference, behind a podium, wearing a suit, in front of hundreds of people and multiple television cameras.
"My favorite place," Petersen joked as he stepped up to the microphone.
Tuesday morning won't be the final time Petersen speaks to the media, with preparations for a bowl game beginning next week, and then the Washington football team's postseason matchup later in the month. But following his shocking announcement Monday, that the 2019 season will be Petersen's last as the UW's head coach, he found himself sitting next to Athletic Director Jennifer Cohen and defensive coordinator — and soon-to-be head coach — Jimmy Lake in the Don James Center overlooking the north sideline of Husky Stadium, giving the beginnings of a farewell.
The scene at the press conference was about as odd a one as the situation Husky fans find themselves looking at. Nobody was fired. With Petersen staying on with an admittedly-ambiguous advisory role in the UW Athletic Department, nobody is even really retiring. And with Lake taking over, no new faces have entered the picture from outside the program.
The myriad of screens in the center — along with the giant Husky Stadium videoboard — flashed the same image, of Petersen and Lake's faces flanking a motto: "A new reign." It was branding for an event similar to the most recent Papal change, or an election from a more respectful time, where the focus was as much on who's leaving as it is on who's coming in.
And it proved two things. On one hand, Lake and Petersen are extremely different. And on the other, they are both so perfectly fit for Seattle.
Petersen came to the UW from Boise, where he spent eight years coaching football in a smaller-town setting. Coming to Washington, many expected the coach — who famously avoids the spotlight and splashy moves — to hate Seattle for its size. That turned out to be why he loved it.
"When I came over here in this big city, walking around, there are about 4 million people that don't even know that football happens here, even with the Seahawks and Huskies being here," Petersen said. "And I loved it. In some ways, it was easier."
Maybe his numbers were exaggerated a bit. But his story shows just how well-fit he was for a place like Seattle, where football — even sports in general — are far from the only priority and attraction. 
And Lake? He's not Chris Petersen. Not by a long shot. Sure, he talked about copying the recipe for Petersen's "secret sauce," continuing his Built For Life program, and maintaining much of the same philosophy. 
But compared to Petersen's calm reserve, Lake jumped right into his remarks with the energy and attacking nature that he promised to bring to every side of UW football. He described how his office always had whiteboards covered diagrams of new blitzes and coverages, along with television screens either playing live games or film, and if he's watching football, he's analyzing it.
"I'll text [Petersen], 'Hey Coach, see that play we were just talking about? The Seattle Seahawks just scored on it.'" Lake said. "I'm passionate about the football strategy, and I want all three phases of our team to be that way."
If Petersen is Greenwood or Ravenna with their relaxed nature, Lake is the analytics startups and tech firms that have taken the city in recent years. He's Downtown at night, flashy with his purple Mustang, and Fremont during the day, driving his boat to work.
"We love the city of Seattle. It is an unbelievable place to raise a family," Lake said. "It's diverse in all different types of ways. It's a forward-thinking city, it's a smart city, and that's another reason why I wanted to continue living in this city, and my family wanted to stay here."
Tuesday morning was all about change. Petersen opened his remarks saying that he stressed being intuitive with "when to go, when to stay, and when to change," and that this was the right time to change. Lake stressed a change in mindset, bringing the aggressive style that has made the UW defense famous to the rest of the team.
Now, the only question is how those changes will go.
"We always say, 'Change is inevitable, growth is optional,'" Petersen said.
That sounds like the perfect motto for a growing city. It sounds like the perfect motto for Seattle.
Reach Managing Editor Josh Kirshenbaum at sports@dailyuw.com. Twitter: @J_Kirshenbaum
Like what you're reading? Support high-quality student journalism by donating here.