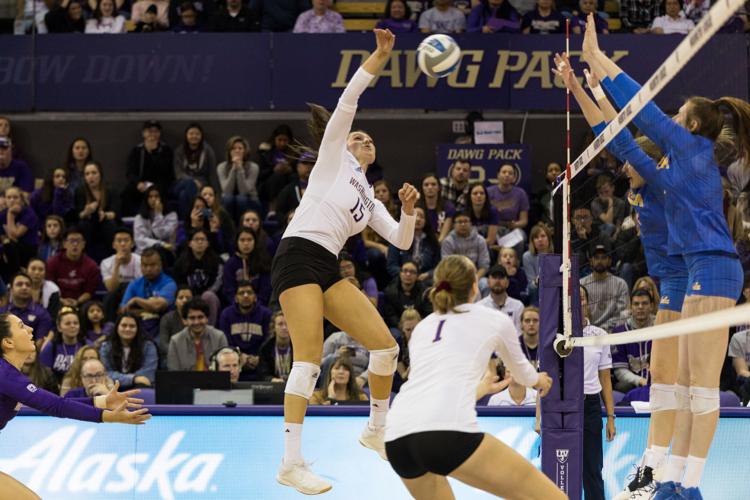 The No. 12 Washington volleyball team cruised to victory over No. 25 UCLA in straight sets (25-14, 25-14, 25-23) on Sunday inside Alaska Airlines Arena.
In the victory, the Huskies (17-5, 8-4) improved upon a lot of issues that hurt them during Friday's loss to USC, including their hitting. Against the Trojans, the Huskies hit just .222, and looked out of sorts on offense. Head coach Keegan Cook knew that the offense would have to improve heading into Sunday's top-25 matchup.
"[The passing was] really good until that last set," Cook said. "But mostly I thought UCLA served excellent in that last set. You don't hit for numbers like that unless you're passing the ball really well. I'm really really pleased. Usually you're not pleased when you get aced eight times but we fought off a lot of tough serves."
The passing took a step up against the Bruins, as the Huskies limited errors and set themselves up for much better chances on offense. On Sunday the Dawgs hit .360, a major improvement from the USC match in which Washington hit below .167 in all three sets it dropped. 
The UW only committed eight attacking errors all match against UCLA, equivalent to how many they had in the fifth set alone Friday night.
"I thought Ella May [Powell] was pretty outstanding," Cook said. "We had a long talk about offense after the USC match, we had a more developed offensive gameplan, trusted her to execute a little more. She made the right choices over and over again. I thought she pushed the tempo at times really well. We were setting the ball a little faster, creating some more seams."
Powell helped the Huskies play one of their best offensive games of the season, and control the game, as the Huskies never trailed in the match.
"I thought it went a lot better," Powell said. "Obviously by the result, I thought we were all connecting a lot better, and our passers fighting off those really tough serves. I think what we practiced yesterday, and learning from the USC match made my game a lot better, but obviously still a lot of room for improvement."
Reach reporter Anthony Edwards at sports@dailyuw.com. Twitter: @edwardsanthonyb
Like what you're reading? Support high-quality student journalism by donating here.