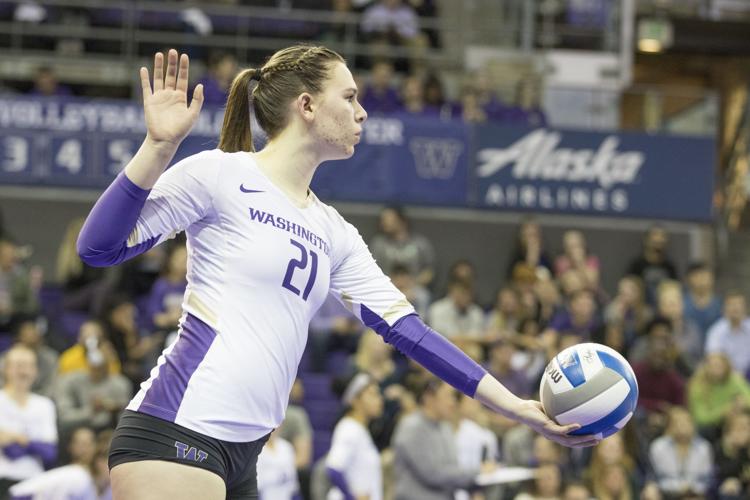 The No. 19 Washington volleyball team made a lot of changes after the loss to No. 14 USC on Wednesday, but a struggling serve receive against No. 20 UCLA led to the Huskies' third loss in a row as they claimed only one set (24-26, 19-25, 25-22, 21-25) against the Bruins.
"When you run a 5-1, your three pin attackers are really important," head coach Keegan Cook said. "We've been struggling to find consistency from whatever players we play at that position."
Changing up the lineup didn't completely solve the UW's problems from earlier in the week, but with only two days of practice with this lineup the Huskies (13-7, 5-5 Pac-12) liked what they saw.  
"We made a switch tonight, brought in Claire Hoffman, and was really encouraged by her serving and passing, I thought," Cook said. "[She] did a really good job in those two phases of the game to give us more options offensively. I liked what Destiny Julye did out of the back row. That was a nice wrinkle to give us some offense."
The Huskies brought in Hoffman for her college debut, moving sophomore Samantha Drechsel to opposite hitter in the front row. Julye stayed on the right, replacing junior defensive specialist Cailin Onosko in the back row.
"I think Claire gives us that steady serve receive option that allows us to then have Destiny in there to hit out of the back row as opposed to using a defensive specialist," Cook said.
The success of Washington's play came in fits and starts, highlighted by a 10-3 run to end the third set and 12 straight sideouts to start the fourth. The biggest stumbles for the Huskies were serving on both sides and difficulty stopping UCLA sophomore Mac May, who had 27 kills. The Huskies had only one ace, and in turn weren't very successful in receiving the Bruins' serve.
"We got aced six times and that's a big story," Cook said. "Mac May hitting .400 is a big story. Those two things were tough for us. Was encouraged by bits and pieces."
Those bits and pieces, along with Hoffman's serving and passing and Julye's defense, included the performance from Washington's middles, sophomore Lauren Sanders and junior Avie Niece. Both added to the Washington offense with some successful swings, Niece hitting .625 with five kills and no errors.
The Huskies outblocked the Bruins (11-5, 6-3 Pac-12) 11-9, with Sanders on the scoresheet for eight of those blocks. After a returning from injury not quite at 100 percent, Sanders finally performed at pre-injury capabilities against UCLA.
"Lauren put in some work," Cook said. "I know she was disappointed after USC on both sides of the ball and came in and did some work on short rest. Her block looked a lot more significant today. We have to help her out with wing blocking, our outside blockers have to do a better job."
Some of the struggles on the block from the rest of the team could be chalked up to the significant position changes the Huskies made. It was Hoffman's first game of NCAA volleyball, and Drechsel hasn't played on the right since her freshman year at Maryland.
The Dawgs continuing serve receive issues have the biggest hand in their three game skid, and with a hectic schedule of four matches since last Friday, three against ranked teams, they haven't had much time to catch their breath.
"Tough seven days," Cook said.
Reach Social Media Editor Hailey Robinson at sports@dailyuw.com. Twitter: @haileyarobin