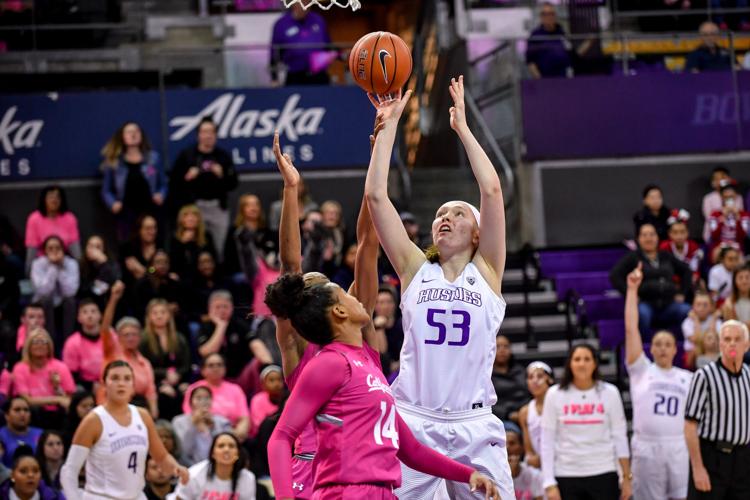 In a tough matchup with Cal, the Washington women's basketball team ultimately fell 71-65 to the Bears. Here are some impressions from tonight's game.
Darcy Rees is the most improved player in the Pac-12
If I could vote for most improved player in the conference, it would go to Rees, hands down.
She might not be lighting up the box sheet tonight — she finished with nine points, five rebounds, and two blocks tonight — but she has stepped up and impacted the game in a positive way more times than not lately.  
Given where she entered the program, the freshman from Australia is significantly a better player.
"She was a twig," head coach Jody Wynn said. "She had never lifted a weight before in her life. She was never relied upon to score a basket in Australia. What she's becoming is pretty special to see, and it's because of her own hard work. She's worked on her game, and night in and night out she's played against some of the best centers in the country."
Transitioning to the college game can be tough for anyone, but especially it was especially so for Rees, who just didn't have a ton of prior basketball experience. Couple that with playing significant minutes against Mississippi State's Teaira McCowan, Cal's Kristine Anigwe and Stanford's Alanna Smith, Rees has had to step up for a Huskies' team that has needed her height.
"Every weekend there is a matchup for me," Rees said. "I've never really played against this caliber of post before. Being able to compete with them, and hopefully one day I'll be at their level. That's my goal."
Huskies will need more from Missy Peterson every night
Peterson is another young player that the Huskies will need more out of come next season. The sophomore had a career night with 23 points on 9-of-12 shooting against Cal, and took a significant load off of leading scorer Amber Melgoza, who dropped 22.
Melgoza still took her shots —  she finished with 29 attempts — but Peterson was able to keep the Dawgs in the game with an incredibly efficient scoring night.
Again, for the Huskies to stay competitive against the powers that be in the Pac-12, Peterson will need to put in double-digit scoring marks, on top of Melgoza. If Washington can find consistent scoring from the sophomore, things could be turning up for the program.
Jody Wynn shows off strong defensive gameplan
This is exactly why Wynn was hired as the head coach at Washington. Lacking the personnel to completely run her system, the UW defense worked very well at times tonight against a premier player in Anigwe.
Wynn, of course, credits the energy to her players, who have recently stepped up their defensive intensity in a big way.
"That came from Colorado, really," Wynn said. "Our defense ignited our offense for the first time in a really long time. They were motivated to win these last two games. They are a close group, they are great young women and they play for each other."
Despite the loss and the box score they gave up to Anigwe (20 points, 18 rebounds), the Huskies were able to force her into tough situations at times and played her hard.
"As a team I think we did a great job on her tonight and she still managed to get in double figures," Rees said. "For me, it's just getting stronger. I need to learn more about the game and play against this quality of opposition every week."
Running a 1-3-1 zone for most of the night, the Huskies put the pressure on Anigwe and double-teamed — and sometimes triple-teamed — the Cal star. Unfortunately, the Bears shot well from behind the arc, going 10-of-19 from deep, which the Huskies were willing to take instead of having Anigwe beating them down low.
Reach Assistant Sports Editor Alec Dietz at sports@dailyuw.com. Twitter: @AlecDietz
Like what you're reading? Support high-quality student journalism by donating here.