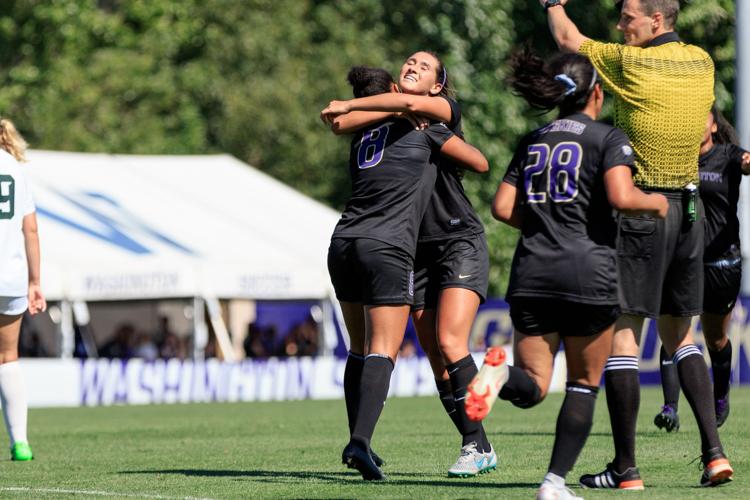 After three straight overtimes for the Washington women's soccer team, the UW finally escaped one with a victory, winning 2-1 over UC Irvine.
A hundred and four minutes of gametime built up to a Washington corner kick, which was sent into the box from Pascale Dumesnil to Olivia Van der Jagt, who headed it into the top of the net, and the Huskies walked off Merlo Field victorious over the Anteaters (1-3-1).
Van der Jagt just can't stop scoring for the Dawgs, getting a goal in four of the past five games. The standout midfielder continues to lead the team in points with her season total ballooning to nine points in just six games.
Dumesnil's first goal of the season gave Washington the first lead of the game, delivering a strike from the top of the box. Ameera Hussen assisted the goal, giving her a point for the first time this season.
The Huskies came out of the game with a balanced attack, getting 17 shots coming from seven different players. The accuracy also improved for the Dawgs, with nearly 65 percent of their shots being on target.
Keeper Siena Ruelas strung together another impressive game, adding five more saves to her season total.
The UCI goal came in the 86th minute from Claire Grouwinkel off a loose ball in the box, sending the game to overtime.
Since the injury to Jessica Udovich earlier this season, head coach Lesle Gallimore has rolled out three different starting lineups. Today's lineup featured the first career start for freshman Makena Carr. Carr was able to get one shot in her 29 minutes played.
Up Next:
The Huskies face off against Utah Valley Sunday at 11 p.m. for their second match of the Portland Invitational.
Reach contributing writer Josh Eddy at sports@dailyuw.com Twitter: @JoshTreEddy