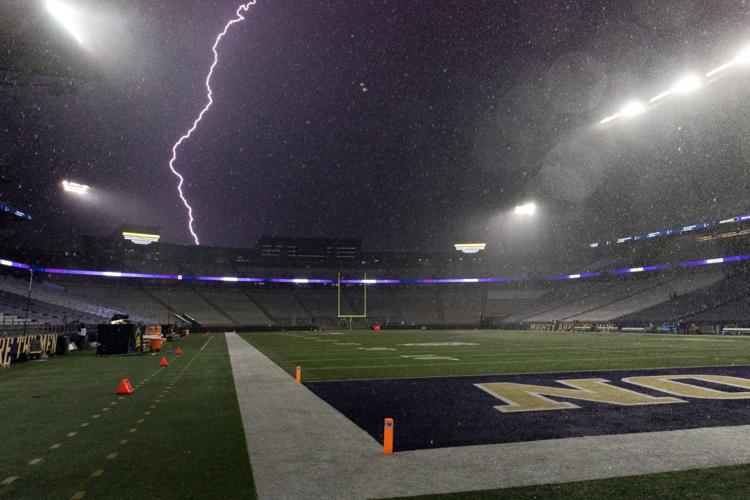 Scott Hunter, a Berkeley alum from California coming to Husky Stadium for the first time in his life for the No. 14 Washington football team's matchup with Cal was a speck of blue and gold in a sea of purple on the south side of the stadium.
That part, at least, he had expected. The surprising part was that instead of filling the seats on Montlake, the sea of humanity was flooding the concourses and bowels of Husky Stadium while Seattle went through its heaviest thunderstorm in years.
"I lived in Chicago the last couple of years," said Hunter, who came to the game with his brother-in-law, who went to Cal for his undergraduate degree and the UW for his master's. "That's what I was thinking: this is a like a midwest storm, not a Washington or California storm."
John and Deborah Loacker, season-ticket holders who have been coming to games since Deborah was a student at the UW in 1975, have a larger sample size of experiences at Husky football games.
But even they said what went on Saturday night was a new one.
"We've definitely had bad weather, but I'm guessing not lightning," Deborah said, standing outside Section 311.
"The closest thing I can think of was when they canceled the Sonics game when the roof leaked," John added. 
Yeah, that was in 1986.
Hunter, watching the rain fall on the field from under the overhang in the lower part of section 303, said that the severe weather took him by surprise.
"We thought it might rain, but I don't think we thought there might be thunder and lightning," he said.
Both Washington and Cal got one fruitless drive apiece, before Eric Radovich, the public address announcer at Husky Stadium, told the crowd that severe weather was in the area and to be ready to leave.
By the time Aaron Fuller had returned a punt to the UW 37-yard line, that warning turned into an evacuation notice.
Leslie Bordeaux, a UW alum who's been coming to games for over 40 years, was ready for the announcement.
"Everyone stayed in their seats, until I read it, and I went 'Let's go before the crowd starts running,'" Bordeaux said.
At 10:08 p.m. — two hours and 16 minutes after the delay began — Chris Petersen walked out onto the field to cheers, took over a microphone to bigger cheers, and gave the fans what they wanted:
"Can you hear me, Dawg fans? We're rolling at 10:30. Call your friends and get them back in the stadium."
When the Huskies took the field again at 10:15 p.m., the audio system in the stadium blasted out Jimi Hendrix' "Purple Haze," just like they had over three hours before.
I don't know if Hunter, Bordeaux, or the Loackers had stuck around to see play resume. 
But Deborah Loacker had one last line to tie it into another discussion UW fans have been having.
"I think it's the Pac-12. If this was a day game, this would not have happened. It's these late games."
Reach Managing Editor Josh Kirshenbaum at sports@dailyuw.com. Twitter: @J_Kirshenbaum
Like what you're reading? Support high-quality student journalism by donating here.