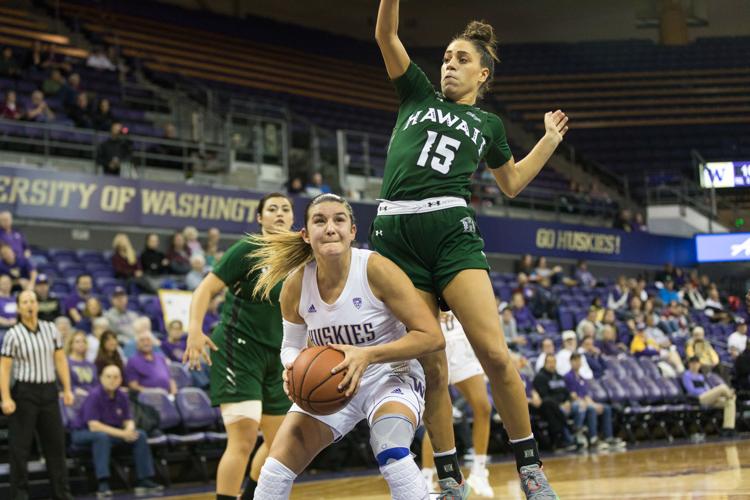 There's no way to sugarcoat this one, the Washington women's basketball team shot 22.6% in its 62-50 loss to Hawai'i.
UW's next lowest shooting game? 38% in a win over Seattle. They finished 19-for-84 from the field.
"Unfortunately it was contagious throughout the entire team, because there was no spark off the bench offensively. We put Haley [Van Dyke] in the starting lineup because I thought she earned it," head coach Jody Wynn said. "But tonight wasn't her night, but it wasn't anybody's night."
To say it was a tough offensive start for the Huskies is a bit of an understatement. The Dawgs missed their first nine shots, and only made two field goals in the entire first quarter on 17 attempts.
After conceding a quick nine point run, head coach Jody Wynn subbed out her entire starting lineup, just two minutes and twenty seconds into the game. 
The Huskies found themselves down nine heading into the second quarter, and they upped their shooting percentage to 27.3% in that quarter. Still much below their season average of 41.7%, but enough to keep them in the game.
The Dawgs went on a 10-0 scoring run to open the second quarter, and they took the lead following a point-blank bucket from freshman JaQuaya Miller. That lead lasted only 22 seconds before Hawai'i responded with a three held that lead through the rest of the quarter. The 22-27 deficit for Washington was the first time all season it trailed at the half.
Both teams struggled from deep in the first 20 minutes, they shot a combined 5-for-30.
"Honestly, we passed up some threes in the second half, because we were trying to get the ball inside for paint touches on either a drive or a penetrating pass," Wynn said. "They were giving us the three-point line. I don't want them to not shoot an open shot."
The shooting problems continued in the second half. The Dawgs missed all eight of its three-point attempts in the third quarter, and only managed to string together 11 points.
The Wahine lead rocketed up to 16 after a pair of threes from Amy Atwell which proved too much of a lead to overcome.
When it was all said and done, Washington outshot Hawai'i 84-51 and missed 65 shots in the game.
"I've never seen it," Wynn said. "Most teams that shoot 33 more times than their opponent win basketball games. Credit their defensive effort, their physicality. They were physical, it was a physical basketball game, and they played tough."
This was by far Washington's lowest scoring game, the next least came in the loss to Tulane, where it only put up 62 points.
"Our practices have been great, we've been moving the ball and getting up extra shots," Wynn said. "The kids are locked in. They're together, they've got fantastic chemistry on and off the basketball court. Hopefully this is an anomaly."
Washington's next game will be at San Diego on Sunday, December 5 at 2 p.m.
Reach reporter Josh Eddy at sports@dailyuw.com. Twitter: @JoshTreEddy
Like what you're reading? Support high-quality student journalism by donating here.