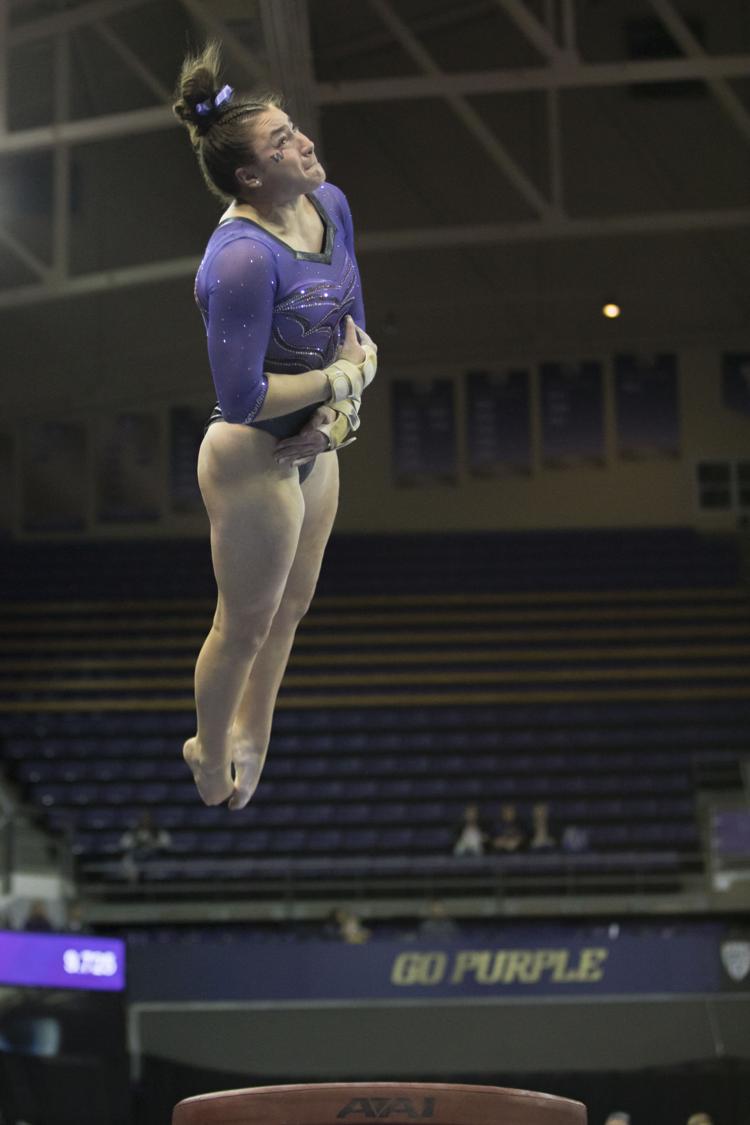 The No. 18 Washington gymnastics team's night in Oklahoma City was highlighted by a season-high vault performance as the Huskies competed on podium for the first and only time in the regular season. A strong night on bars also added to a final score of 196.250.
Kicking off the meet on floor, which has been their strongest event this season, seemed to give the Huskies the start they needed to have their second-highest scoring meet of the season. Four Washington gymnasts scored above a 9.800 for a team score of 49.100. While it wasn't the UW's highest floor score of the season, it was a strong team performance to lead off the meet.
The confidence from floor carried through to vault, where freshman Amara Cunningham kicked things off with a season-high score of 9.800. The next four gymnasts in the lineup continued the trend by either tying or setting season highs. Junior Madison Copiak led the Huskies with a 9.850, and the team finished with a score of 49.050.
It's the UW's first score over 49 on vault this year.
In her third week back in competition after returning from injury, junior Michaela Nelson lead off on bars for the Huskies with a 9.875, a full tenth higher than her previous scores this season. Copiak capped off the event even stronger with a 9.900, and the Huskies scored their highest event score of the night, a 49.250.
The lowest of Washington's five counted scores was a still strong 9.800 from junior Maya Washington, ensuring the Dawgs wouldn't have to count junior Evanni Roberson's fall.
The UW faltered early on beam, Nelson getting a slow start in her return to the lineup. But Maya Washington got the Huskies back on track with a 9.825, and Copiak and freshman Brenna Brooks helped to bring the team score back up. The Huskies finished with a 48.850.
The Perfect 10 Challenge was Washington's only practice at competing on podium, or platforms that make equipment slightly bouncier, this season. They'll see it again if they qualify for the National Championship in April, and this event was an opportunity for preparation for the national stage.
The Huskies will compete next Saturday against No. 14 Cal, the fourth-ranked team in the Pac-12, at 2 p.m. in Berkeley. The match will be available on Pac-12 Networks.
Reach Social Media Editor Hailey Robinson at sports@dailyuw.com. Twitter: @haileyarobin
Like what you're reading? Support high-quality student journalism by donating here.