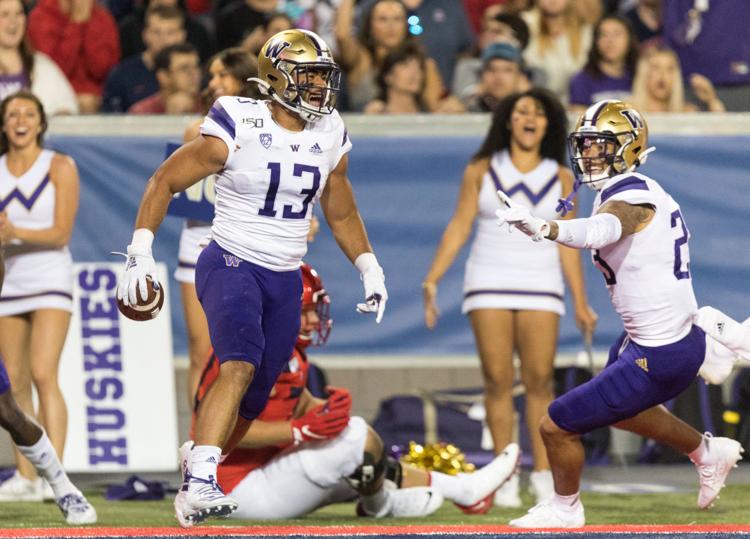 TUCSON, Ariz. — A subpar performance by the Washington football offense in the first half was all but forgotten after an explosion in the second catapulted the Huskies past Arizona, 51-27. 
The Huskies (5-2, 2-2 Pac-12) failed to capitalize on great field position in the first half, to the tune of merely six first-half points by the offense, but came on in the second half. In the fourth quarter alone the UW outgained itself from the first half. 
"We just came together as an offense and realized what we needed to do," Salvon Ahmed said. "We manned up."
Trailing by four at the half, the Huskies opened the second half on a tear, with just one of their drives resulting in a punt, and five drives resulting in touchdowns. With a focus on their ground game, Washington outmuscled Arizona's defense for 207 rushing yards and three touchdowns from Ahmed. 
After opening the second half with a 10-play, 75-yard touchdown drive, the defense created havoc, with Myles Bryant streaking across the field to force a fumble from Jamarye Joiner. The UW offense — which struggled to convert in the red zone in the first half — finally capitalized. 
Given a short field, the Dawgs went 36 yards in short order, and Ahmed finished the drive with an outside run for a touchdown. 
Asked about what changed in the second half, offensive coordinator Bush Hamdan gave a simple answer:
"Literally just execution," Hamdan said. "We knew we wanted to run the ball, and thought we could control it up front."
The Huskies pounded and pounded away inside and outside the tackles, and were only stopped once, on the second drive of the second half, and on a single field goal drive when the game was out of doubt. 
"We knew the plays were there to make," head coach Chris Petersen said. "We just needed to convert a few first downs and build some confidence and say, 'Yeah, we can do this.'"
The UW defense held up its fair share as well, holding Khalil Tate and the explosive Arizona run game to just 151 yards, on a 3.9 yard per carry average. The electric quarterback was sacked four times by Washington defenders, and had minus-28 rushing yards. 
Week 7: Washington vs. Arizona
"To contain them and keep us in it in the first half — a lot of credit to those guys," Petersen said of the defense.
An offensive explosion and a bounce back win was just what the Huskies needed as they head back home and await a matchup with No. 13 Oregon at Husky Stadium next Saturday. But Washington isn't thinking about that matchup until tomorrow, according to Petersen.
"I don't know anything about the next week, we're not that far ahead," Petersen said. "I do think it was important for us to rally in the second half. That's really important. We all knew it was very frustrating and not nearly good enough in the first half, and we knew we could do something we just needed to get into a rhythm and start making plays and I think that snowballs itself." 
Reach Sports Editor Alec Dietz at sports@dailyuw.com. Twitter: @AlecDietz
Like what you're reading? Support high-quality student journalism by donating here.