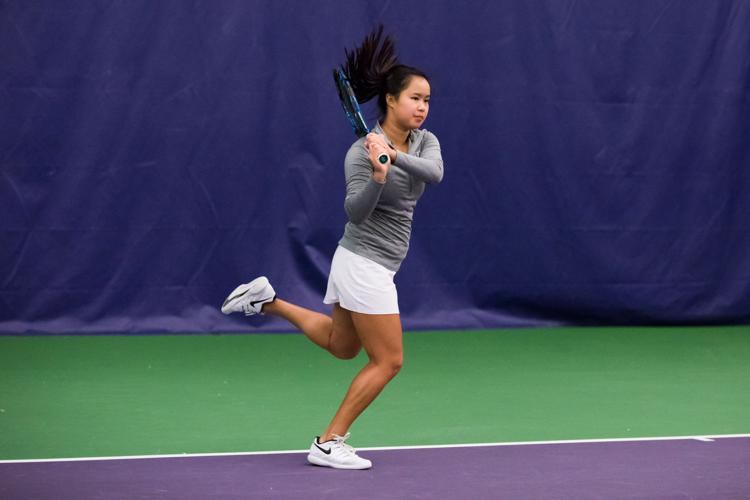 In a tightly contested match Sunday night, the Washington women's tennis team beat No. 14 NC State 4-3 to complete their run in the ITA championships. 
The Huskies (6-1) excelled in doubles on the night, winning all three matches to clinch the first point of the game. Consistent serving and calculated net play helped the Huskies throw their opponents off balance from the start of doubles play. The Huskies made their presence felt at the net, by continuously cutting points short by poaching off of NC State's groundstrokes, and keeping them out of rhythm.
"I was very impressed with our doubles play tonight," head coach Robin Stephenson said. We have worked hard on it in practice and we needed that point tonight."
The match score remained close throughout, with both teams holding their own in singles. Freshman Sedona Gallagher, slotted at No. 5 singles won 6-4, 6-2 to improve her overall record to 6-0 on the year in both doubles and singles. Sophomore Vanessa Wong also won her singles match 6-3, 6-2 to improve to 6-0 on the year in singles play.
NC State took three singles matches, and with the score knotted at 3-3, the pressure shifted to Court 6, where freshman Nika Zupancic looked to secure the win for the Huskies.
Zupancic faced NC State's Amanda Rebol, who was thoroughly drained by the end of the match due to Zupancic's ability to pick out corners and keep her opponent chasing down shots. Zupancic won the match 6-2, 6-4, and by the second set, Rebol was doing a bit of pushing in order to just get the ball back safely, which allowed Zupancic to gain confidence by slapping her groundstrokes more aggressively and going for winners.
The Huskies will look to make it seven wins on the year when they face in-state rival Gonzaga on Feb. 19 in Seattle.
"Any win at this event is fantastic and we are very happy to be ending the weekend this way," said Stephenson. "Our best tennis is definitely ahead of us, but this was a great step in the right direction for us."
Reach reporter Caden Conder at sportsdaily@uw.com Twitter: @cadenmconder