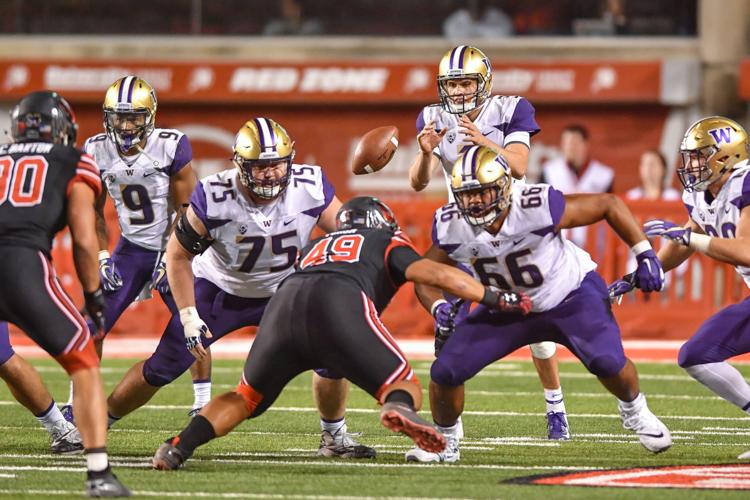 At times, it has been brilliant. Quarterback Jake Browning has looked stellar, throwing deep balls with precision to a diverse group of wideouts that have made one-handed and acrobatic grabs. Myles Gaskin and the running game has gotten going on early downs to pace an offense that's at times unstoppable.
However, there are also those times where it has not looked like that at all. The Huskies run the ball on first down for no gain. A throw from Browning falls incomplete. On third down, the defense sends a blitz, and Browning scrambles backward before throwing an interception, or nearly doing so.
So what is the key for an offense that needs to find its rhythm and consistently move the ball?
Well, it's complicated.
"I think we can help give him better answers," head coach Chris Petersen said after the Utah game last Saturday. "We're in third-and-long and that's not where we want to be against Utah. We've got guys running down the field, and we're not protecting like we need to, they're very good at blitzing, bringing different blitzes, and he's trying not to take a sack. We're all in this together, it's on the o-line, the coaches, it's not just on Jake. And we'll get that fixed as well."
With all the good Browning and the offense has done, the major problems have happened when he's in third and long, and Petersen suggested even throwing shorter, more manageable throws that give the wideouts room to run and make moves in space to pick up first downs.
"We need to help him out," Petersen said. "That's what I think, I think we need to help him out."
Last season, Browning and Co. had about their worst game of the season offensively against Arizona State. The quarterback was sacked five times, and only threw for 139 yards. Gaskin had 14 carries for just 67 yards, and worst of all, they only put seven points on the board.
"It was a really tough game, and it was really weird," offensive line coach Scott Huff said. "I felt like last year we were on the sideline a ton and we couldn't get into a rhythm, and that's always weird. It was kind of weird a game and one I'd like to forget."
Luckily for Huff and the Huskies, it is a game they can likely forget. Former NFL head man Herm Edwards leads the program in Tempe now, and the Washington players and staff say that the defense looks completely different than it did last year.
"There are some familiar players but the defensive scheme is completely different," Huff said. "Everything feels a lot different, and the defense is a lot different than what we prepared for last year."
Blitzes and stunts are the name of the game for former San Diego State defensive coordinator Danny Gonzales, who now carries the same title with ASU and has been known to throw everything but the kitchen sink at opposing offenses, and with a lot of success this season.
"They bring the whole thing," senior tackle Kaleb McGary said. "They bring every blitz, every twist, everything known to man in college football."
Just three games into the season, the Huskies have plenty of time to improve on their offensive inconsistency. They have the talent and leadership to make things happen on the offensive side of the ball, and Browning has a believer in his teammates and coaches.
"One of the most impressive things is the resiliency," offensive coordinator Bush Hamdan said. "The shots he takes, he keeps showing up and playing his butt off."
Reach Assistant Sports Editor Alec Dietz at sports@dailyuw.com. Twitter: @AlecCDietz