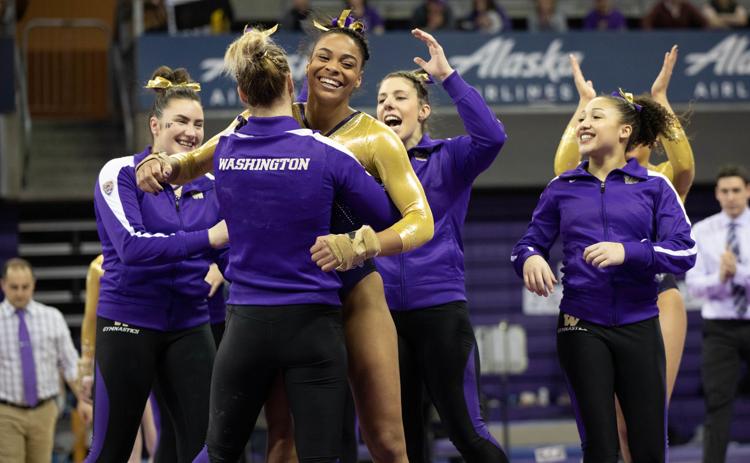 The No. 18 Washington gymnastics team is preparing for regionals in Corvallis, Oregon, beginning Friday, but that doesn't mean practice is ramping up.
"Our volume has come down quite a bit, so now its just fine tuning and being really efficient so that they feel really, really good physically going into Friday," head coach Elise Ray-Statz said. "That's really important. They're looking fresher, which always feels really good toward the end of the season."
The volume coming down means shorter, less intense practices. They start a little later, end a little earlier, and wear out the gymnasts a little less. At this point in the season, the gymnasts know how to do their skills, and put them together into their routines. All that's left is to perfect them.
"It's really nice because we're able to save our bodies," freshman Amara Cunningham said. "We focus more on quality more than quantity — just perfection every time and making sure the details are there and not necessarily numbers."
It's been a positive change for the Huskies as they prepare for the postseason.
"We had an intrasquad on Friday and Saturday and it was some of the best gymnastics I've seen from this team this year," Cunningham said. "We're just going to continue to do that this week and if we stay on that track we're on the right track to make nationals."
2019 is a year of big changes in terms of how the postseason is run. The Huskies have a regional on Friday, and, if they place first or second there, a super regional on Saturday. They've competed in two meets in one weekend already this season, but that isn't the only practice they've had for the new postseason format. The back-to-back intrasquad meets that were part of Washington's training this weekend have been a common practice since September.
"We've been practicing multiple days in a row since the very beginning of preseason so we've definitely been preparing because it is so different," junior Michaela Nelson said. "We definitely feel like we can go out and hit two amazing days of competition in a row."
After a performance at Pac-12 Championships that they weren't exactly thrilled about, the Huskies are looking for the fresh start regionals brings.
"Two days in a row is definitely challenging for everybody," Ray-Statz said. "That's kind of nice, it's going to be an equal playing field."
Those two days in a row aren't a guarantee, however. The Huskies have to place in the top two of a regional that includes No. 5 Denver and No. 12 Boise State to even advance to the second day of regional competition, and that's a challenge in itself.
"We're really just taking it one day at a time," Ray-Statz said.
The goal, as always, is to make the national championship for the third time in three years. There's just a slightly longer road to getting there than before.
"All we have to do is trust our training and do what we've been practicing," Nelson said. "We've really focused in on three things: unity, trust, and excitement. Really trusting one another and going out there and having fun."
Reach Social Media Editor Hailey Robinson at sports@dailyuw.com. Twitter: @haileyarobin
Like what you're reading? Support high-quality student journalism bydonating here.