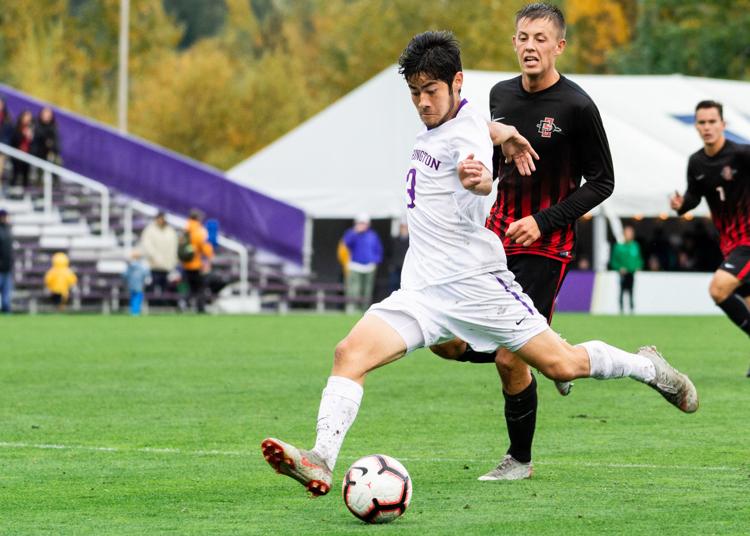 Since San Diego State entered the Pac-12 in 2005, the Washington men's soccer team had never beaten both UCLA and SDSU at home in the same year. But Sunday afternoon, the Huskies (10-7-0, 5-4-0 Pac-12) bucked the trend, defeating the Aztecs (6-8-1, 1-6-0 Pac-12) 2-0 after beating UCLA by the same score Thursday night. The win also moves the UW past UCLA into third place in the Pac-12 standings with the Bruins' loss earlier in the day to Oregon State.
"It was a fantastic weekend," head coach Jamie Clark said. "Two clean sheets, that's the most important thing. We weren't chasing games, and if you're not chasing games, you're gonna start playing better. We weren't pretty today, but we were effective."
In a game largely deprived of offense, the Huskies struggled to get anything going in the final third of the field for the first two thirds of the game, managing only five shots in the first 45 minutes. But in the 66th minute, they got the goal that put them in the driver's seat.
Redshirt senior forward Kyle Coffee lined up on the left side of the field to take his fourth corner kick of the game. He roped the ball in, and amidst the competition for it in the box, an Aztec defender headed the ball past everyone into his own goal. In the process, the UW took the lead for good.
While the Dawgs used the own goal to take the lead, they solidified their hold on the game in the 72nd minute, courtesy of a classic offensive connection. Sophomore midfielder Blake Bodily sprinted past the SDSU right back down the sideline and received a great through pass from redshirt sophomore defender Cole Grimsby, saw redshirt senior forward Scott Menzies establishing position in the middle, and fed him a beautiful pass into the box that Menzies easily finished with his left foot.
"Great ball by Cole, and when Blake gets himself going vertically, he's so hard to handle," Clark said. "He got himself in the corner, someone made a really good early front post run that brought the defenders, and he cut it back and it was a great finish. There's no guy you want in the box with time more than Scott."
The Aztecs tried to make a late push to cut the score back to one on a threatening header by redshirt senior defender Aleks Berkolds, but redshirt sophomore keeper Bryce Logan, making his fifth start of the season in place of Saif Kerawala, got up high to make an athletic save on the ball, preserving his second straight clean sheet.
"These are tough weekends, and to ever get two and a row is tough, but I think we're clicking at the right time," Clark said.
Reach reporter Chris Angkico at sports@dailyuw.com. Twitter: @chrisangkico