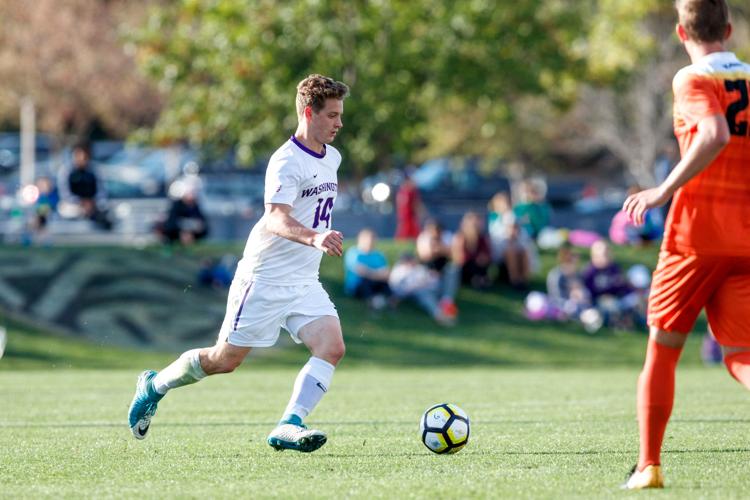 The No. 20 Washington men's soccer team is back in the NCAA Tournament for the second straight year, and for the second straight year the UW will host a match. The difference this time around is that this will be a first-round match, and it will be played against cross-town rival Seattle University. 
Last Thursday, the UW played its final game of the regular season in Corvallis against Oregon State, which the Huskies (12-6-1, 5-4-1 Pac-12) lost 4-3 behind four second-half goals from OSU.
"It was crazy," head coach Jamie Clark said. "We had a crazy seven minute period where we gave up like three goals, and you learn from it. The thing is is that it rarely happens, but if you give away chances like that, though you're not often punished, you can be punished. That's the takeaway, you gotta give away as few chances as possible. 
Despite the disastrous result, Clark felt that his team showed poise in the situation. 
"The positive for me was that we rebounded and I thought we deserved more out of that game, and instead of hanging our heads, we kept fighting to the very last second," Clark said. "And in the NCAA Tournament, you believe you're going to be put in one or two bad situations, and you gotta fight your way out of them."
The Huskies ended their season third in the Pac-12. The team sent seven players to the All-Pac-12 teams, with redshirt junior forward Kyle Coffee, senior defender Garret Jackson, junior defender Quentin Pearson, and redshirt sophomore goalkeeper Saif Kerawala all being named to the second team, and senior defender Justin Fiddes being awarded honorable mention. 
Sophomore midfielder Handwalla Bwana was named to the All Pac-12 first team along with freshman midfielder Blake Bodily, who also won the Pac-12 Freshman of the Year this season after Bwana won it a year ago. Bwana was tied for second in the conference in goals with eight, and Bodily was second in the conference in assists with seven.  
"It's a very fine margin between greatness and mediocrity in this game; one or two more wins, we would have had an unbelievable year, one or two more losses and we would have had a bad year in our opinion," Clark said of this season. "So, really tight margins, but overall, I believe we deserve to keep playing, I believe we earned that through the regular season, but I still think that this group thinks they have more to do, and that's an exciting thing for me."
This Thursday, Washington will play Seattle U for the second time this season. The two teams played each other almost two months ago, when the Huskies defeated the Redhawks 2-0 on the road and snapped their 21-game home winning streak. In fact, Seattle U has not beaten the UW since 2015. 
Junior midfielder Sergio Rivas scored seven goals this season to lead the team, while senior midfielder Alex Roldan was second on the team in goals with six and added a team-leading seven assists. Roldan and junior defender Nathan Aune were both selected to the All-WAC First Team, while Rivas was named to the second team, along with redshirt junior defender Anthony Ayala and senior forward Medo Youssef.
"They have three, I think, potential All-Americans in Rivas, Roldan, and Aune and all of them are game winners in terms of they're gamers, they make big plays, they can find each other, or they can each win it themselves," Clark said. 
The Redhawks won 14 games during the regular season which ties them with a handful of other teams for the third most wins in the country this season. They also won the WAC for the third time in the last five years. 
"As a whole, they just have good shape, and they're very well coached and organized, so they're a sum that's greater than their parts," Clark said. "I think there's only four teams in the country that won more games than them this year, so they find a way to win games regularly."
The game will begin at 6 p.m. Thursday at Husky Soccer Stadium. 
Reach reporter Chris Angkico at sports@dailyuw.com. Twitter: @chrisangkico