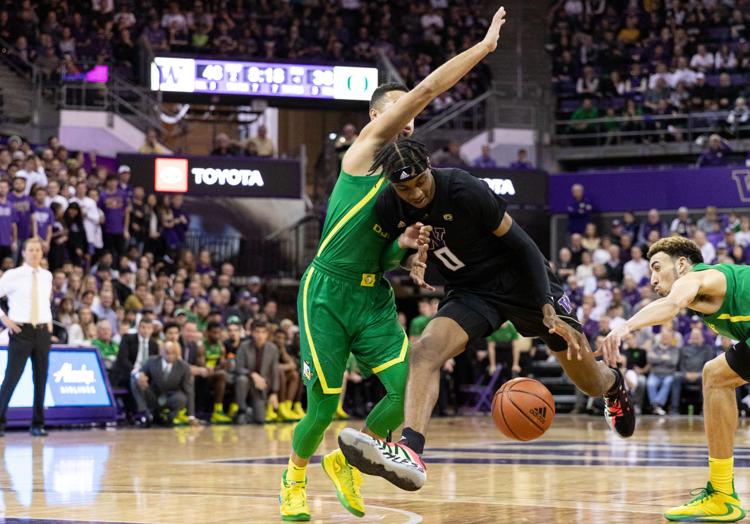 Another road trip, another sweep against the Washington men's basketball team, who lost against the mountain schools last weekend as the Pac-12 season continues to spiral. 
Washington let a double-digit lead slip away again against Utah before losing by 14 points to Colorado two days later. The Huskies (12-9, 2-6 Pac-12) have already equaled their loss total from last season's Pac-12 championship run just eight games into the conference season and are still clearly struggling to find their chemistry on the court. 
"If we play as a team, we have a chance to be really special," head coach Mike Hopkins told reporters after the 76-62 loss to Colorado. "If we play one-on-one, we're going around it. We're just not gonna be."
One of the biggest issues has been finding a way to get highly-touted freshman Jaden McDaniels going. Though he's been slowed by an ankle injury the last few weeks, the Federal Way prospect is averaging just 9.3 points per game, shooting 26% from three, and jointly leads the team in turnovers since conference play began. He's also second on the team in fouls and has the lowest shooting percentage on the team for anyone who's played more than 100 minutes. 
Against Colorado, in his first appearance off the bench, McDaniels played just nine minutes and went 1-of-6 from the field with just two points, his lowest since arriving at Washington. He also picked up three fouls and two turnovers. 
"At the end of the day, his ankle's still been bothering him a little bit," Hopkins told reporters. "A big thing for me is, we're playing a certain way. That's how we want you to play. You can't force things. You got to play as a team."
McDaniels entered college with a reputation as a solid ball-handler and shooter, and while he was impressive in his debut against Baylor, and against Ball State and San Diego, he hasn't been able to replicate those performances in conference.
It's been needed too. Close losses to Stanford, California, Oregon, and Utah all emphasized the Huskies' need for a closer, someone who can take over and create their own shot, especially when other teams throw double and triple teams at fellow freshman Isaiah Stewart. 
"[The coaches] can't put the ball in the basket for us," Stewart told reporters. "They can't dribble it. They can't close out games for us. We have the ball in our hands. We should be able to close out games and obviously we haven't been doing that."
In McDaniels' place against Colorado, freshman RaeQuan Battle has looked bright at times, adding more of a three-point threat but lacking the ball-handling and shot creation skills.
The Huskies might have a player with the capability to do exactly what Stewart says in McDaniels, but they need to figure out how to implement him soon, especially with the always-dangerous Arizona schools coming to Hec Ed. 
Reach Assistant Sports Editor Andy Yamashita at sports@dailyuw.com. Twitter: @ANYamashita
Like what you're reading? Support high-quality student journalism by donating here.