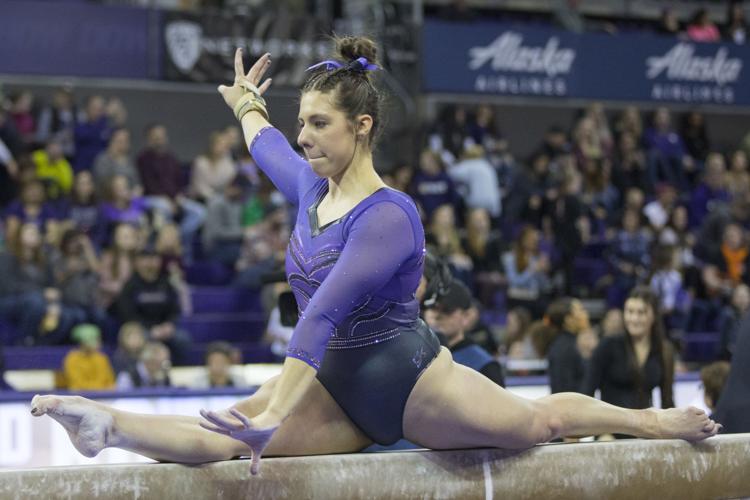 The No. 12 Washington gymnastics team won in Maples Pavilion for the first time since 1998, scoring a 195.825 on the road at Stanford. Junior Evanni Roberson won the beam title and tied Stanford's Kyla Bryant with a 39.300 in all-around.
Washington's bars gymnasts were consistent throughout the lineup, scoring four 9.775s starting with junior Maya Washington and closing with junior Michaela Nelson.
Nelson, recovering from a knee injury, made her season debut on the bars, the least leg-heavy event in gymnastics. Junior Evanni Roberson led the Huskies as usual with a 9.825 for second place.
The Huskies stayed consistent on vault, with a 48.875. That score falls just below a season average of 48.866. Roberson and sophomore Geneva Thompson, Washington's most consistent vault competitor this season, tied with 9.800s to tie for third place. Senior Kristyn Hoffa was scheduled to close out the lineup for the Huskies, but was a late scratch, Washington going with only five vault competitors for the second week in a row.
Hoffa was scheduled as Washington's anchor again on the floor, and her 9.875 tied for first on the event. It tied a season high for Hoffa, one of the UW's most consistent floor competitors. Hoffa boosted the Huskies to a 49.025 on floor, with help from a 9.850 from Maya Washington and a 9.825 from Roberson.
Washington rallied after last week's beam struggles with a 49.000. Roberson led the way with a 9.850, and senior Mallory Rose came back from a hard fall with a 9.775.
Next week, the Huskies return home to host No. 3 UCLA and Seattle native Katelyn Ohashi at 3 p.m. Sunday.
Reach Social Media Editor Hailey Robinson at sports@dailyuw.com. Twitter: @haileyarobin
Like what you're reading? Support high-quality student journalism by donating here.