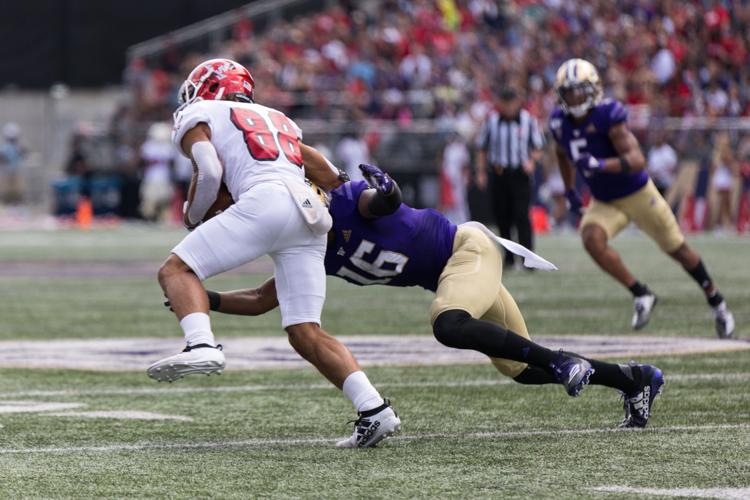 The dark period of the year has passed; it's officially college football season. And the No. 13 Washington football team rang in its new year in convincing style, dismantling FCS Eastern Washington to the tune of 47-14. Before we move on to the UW's FBS portion of the schedule, let's open up the notebook on this past Saturday.
How to start a game (2019 edition)
After two years of being plagued by slow starts, the Huskies (1-0) certainly looked the part of a top-15 team playing an FCS school. 
Last year, Washington scored on its first possession in four games, and only scored on its first two possessions twice. Even when the Dawgs were playing against overmatched teams — and as a top-15 team much of the year, they usually were — they took their time, only leading by multiple possessions at the end of the first quarter three times.
Saturday, the Huskies jumped out to a 21-0 lead before Husky Stadium had entirely filled up. Jacob Eason completed nine of his 10 first-quarter passes, including two touchdowns. Washington was averaging over 5 yards per carry on the ground, and had eight first downs — four on passes and four on runs. On defense, Washington had two sacks in the first 15 minutes, and held EWU to 1-for-5 on third down.
The last time Washington started a season opener that well was 2016 against Rutgers. That game began a trend of quick starts that more or less disappeared in 2017. Now the only question is whether the Huskies can keep them going in 2019.
The youth movement
Last season, Washington played a grand total of zero true freshmen in its season opener. This year: 10. 
Granted, it's a bit easier to work some true freshmen into the mix against an FCS team than a top-15 SEC school, but Chris Petersen said last Monday that there were "a couple guys" at multiple positions that could not only see the field, but play in more than the maximum four games to keep a redshirt. 
In total, 10 true freshmen saw the field for the Huskies. Eight were defensive players — Puka Nacua was the lone offensive player to see the field, and Tim Horn took all eight UW kickoffs. At one point, the Washington secondary was 60% true freshmen, with Cameron Williams and Asa Turner at safety and Trent McDuffie at cornerback. 
Williams probably had the most impressive full game of the bunch in a starting role, but it was outside linebacker Laiatu Latu who provided the late highlight, bringing down Isaiah Lewis in the end zone for a safety.
Six UW players ended that play within a few yards of Lewis on that play. Four were true freshmen and one was a redshirt freshman.
Other notes
- Welcome to the Jacob Eason Era on Montlake, here's your ticket to the hype train. The junior transfer certainly looked the part of the star Washington fans were looking forward to under center, going 27-of-36 with four touchdowns. Next up, he'll get to try to replicate that success against a Cal secondary being called one of the best in the country.
- Petersen went back to a two-kicker system, using Peyton Henry on field goals and Horn on kickoffs. One game into the season, using the true freshman on kickoffs seems to be the right call. Last year, Henry only forced touchbacks on just under a third of his kickoffs; five of Horn's eight Saturday were sent into the end zone.
- Nick Harris went down with a leg injury midway through the first quarter, was helped to the injury tent, came back to the sidelines in full pads, but didn't see the field the rest of the way. Chris Petersen didn't offer any clarification on the extent of the injury in his postgame press conference. In Harris' place, redshirt freshman Matteo Mele came in at center and looked pretty good. 
Despite Mele's performance, the Dawgs will still be holding their breath about Harris. One of the most important leaders on the offense, and long-term absence will be tough to deal with.
Reach Managing Editor Josh Kirshenbaum at sports@dailyuw.com. Twitter: @J_Kirshenbaum
Like what you're reading? Support high-quality student journalism by donating here.