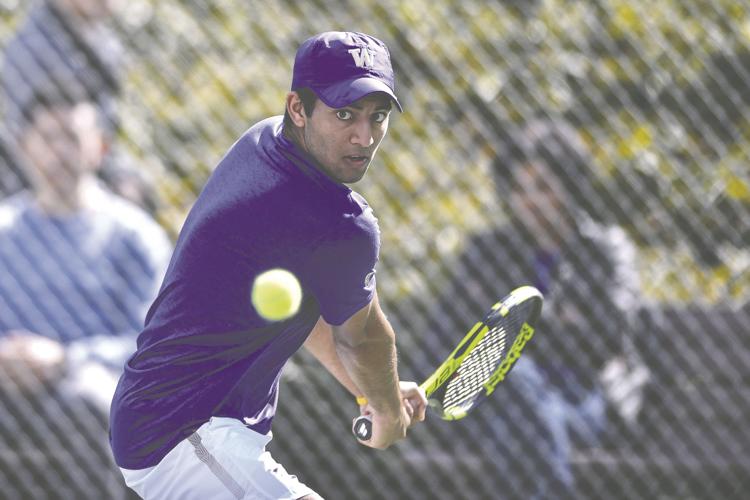 After a tough weekend with two 4-3 losses, the Washington men's tennis team is trying to get back on track as they welcome Arizona and Arizona State to Seattle this weekend. 
The recent results for the Huskies (10-9, 0-3 Pac-12) against UCSB and Oregon have been less than ideal, but there has been plenty to take away from this past weekend that can help them for the rest of the season. 
"We have to learn," head coach Matt Anger said. "Some of the areas where we have made mistakes, we have replicated them one match to another. If I have a frustration, that is probably it. We all make mistakes, but people improve faster when you don't continue to duplicate those mistakes. I just want to get things cleaned up. I think individually we have done that, but throughout the lineup, we haven't done that team-wide." 
With the season winding down, it is crucial that the Dawgs make the most of their opportunity this weekend. It also marks the end of their home schedule, so they should have a significant home crowd rooting to cheer them on for the last time this season. 
"Just like any particular match, you want to start, sustain, and finish," Anger said. "We want to do that with the season, I think we've had some opportunities. We've played decently and haven't come through as much as we would like, and we have two more opportunities here at home, and there's no doubt we want to take advantage of them."
With the end of the home schedule comes senior day. With three seniors on the team, Joao Barra, Jake Douglas, and Mitch Stewart, it is sure to be an emotional day. 
"Senior day is always a special day; I think it is in every sport," Anger said. "For me personally, the reason why it is so special is that in collegiate athletics you only get four chances and the clock is ticking. I think when people are a freshman, they feel like they have forever and when they're seniors, it pulls on your heart that it's coming to an end. Jake and Mitch have been starters for us throughout and playing high in the lineup. They bleed purple, so every day with them is special, and Sunday will be extra special."
Reach reporter Kyle Gehler at sports@dailyuw.com. Twitter: @KyleGehler