From the time he started competing in track and field, Jeremy Taiwo wanted to be an Olympian. 
However, he never would have guessed the most influential time of his career wouldn't come on the Olympic track, but during his time at the University of Washington.
Before Taiwo made it to the pinnacle of sport, competing in the decathlon at the 2016 Rio Olympics, he spent his college years competing on Montlake for the UW Track and Field team. 
Taiwo was born and raised in the Seattle area; his father, Joseph, was a two-time Olympian for Nigeria. One of Taiwo's main goals throughout his athletic career was to match his father's mark of two Olympics.
"I had a great time at UW," Taiwo said. "I think seeing the next level of competition was pretty good, and also having the individual freedom to pursue my interests."
Taiwo competed for the Huskies from 2009 to 2013, becoming a five-time All-American and the 2011 Pac-10 Champion in the decathlon in the process. Even with all these successes, Taiwo was still able to learn and grow during his time at the UW.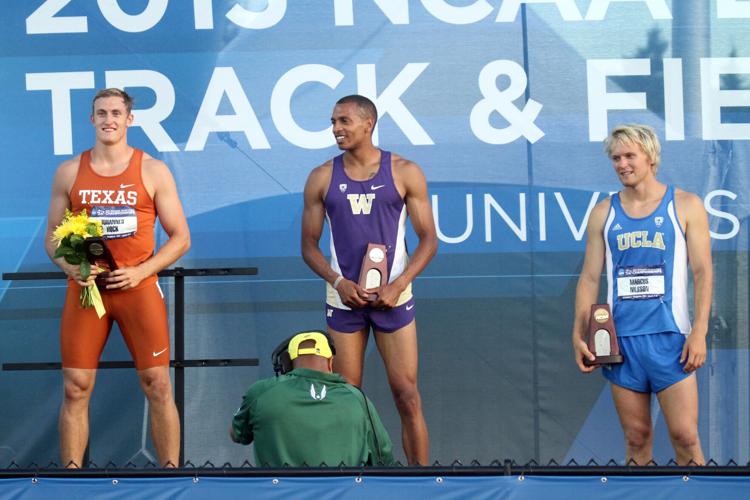 "I think the term 'trial and error' would probably best fit my athletic experience and how I became a better person and athlete," Taiwo said.
Off the track Taiwo was just as successful, being named U.S. Track & Field and Cross Country Coaches Association All-Academic Team every year he competed as a Husky. Taiwo was able to spend his time away from the track taking in everything the UW had to offer and excelling in the classroom — especially when he was injured.
The decathlon athlete experienced his fair share of injuries during his time at Washington, including spending an entire season on the sidelines. The constant injuries and recovering from them helped Taiwo grow as both an athlete and a person. 
"When I got to the UW, I really knew what it was like to get injured, recuperate, get injured again, and recover," Taiwo said. "This helped me develop this attitude to see the next obstacle as motivation."
An example of how Taiwo was able to overcome and use his injuries for motivation came in the 2011 Pac-10 Championships. Three weeks before the meet, Taiwo tore his UCL in his right arm, and he required "Tommy John" surgery to be able to throw with the right arm again. Instead of electing to have the surgery and not compete, Taiwo decided to throw with his left arm instead. Even with his off arm, Taiwo was able to win the decathlon at Pac-10 Championship. 
Taiwo made a big leap in performance his senior year, which included second place at NCAAs, a trip to the 2013 Track and Field World Championships in Russia, and a world record in the heptathlon high jump. It is no coincidence that much of Taiwo's success coincides with Atanas Atanassov beginning to coach him.
"When I started coaching him he accepted everything really fast," Atanassov said. "Even in our first indoor season he made huge PRs and school records."
Atanassov began coaching Taiwo during his senior year, taking over from Pat Licari, who moved to just coaching Taiwo on jumps. It was around this time that both coaches realized Taiwo had what it took to make it to Rio in 2016.
Taiwo and Atanassov were also able to develop a great relationship on and off the track, which helped lead to success. According to Atanassov, their relationship blurred the lines between coach and athlete and became more of a genuine friendship.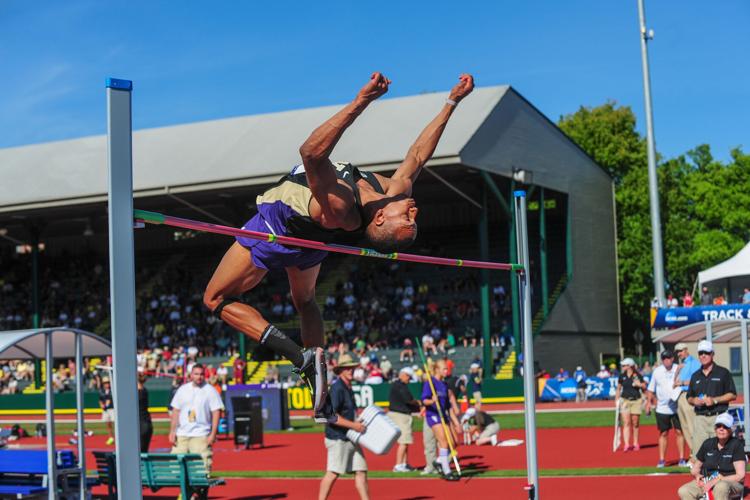 Following his career at the University of Washington, Taiwo made it to the pinnacle of his sport when he qualified for the 2016 Rio Olympics in the decathlon, where he finished 11th. Taiwo was extremely proud not only to represent his country but also to represent his home state of Washington and the UW.
"I'm super proud of where I come from," Taiwo said. "It gave me great pride to represent such a diverse area and university."
Taiwo's goal was always to equal his father with two Olympics, but he has recently decided not to pursue his second Olympics. Instead, he has opted to pursue a career of service and will work as an EMT. He is currently training to become an EMT for the North Shore Fire Department in Kenmore, Washington.
Taiwo hopes to use his natural athletic talent and his UW education to help people as a first responder. But the real reason Taiwo will be a great first responder is his attitude and his love for life.
"He's always got a big smile," Licari said. "He's a great person to be around."
Reach reporter Nick Lombroia at sports@dailyuw.com. Twitter: @lombroia
Like what you're reading? Support high-quality student journalism by donating here.