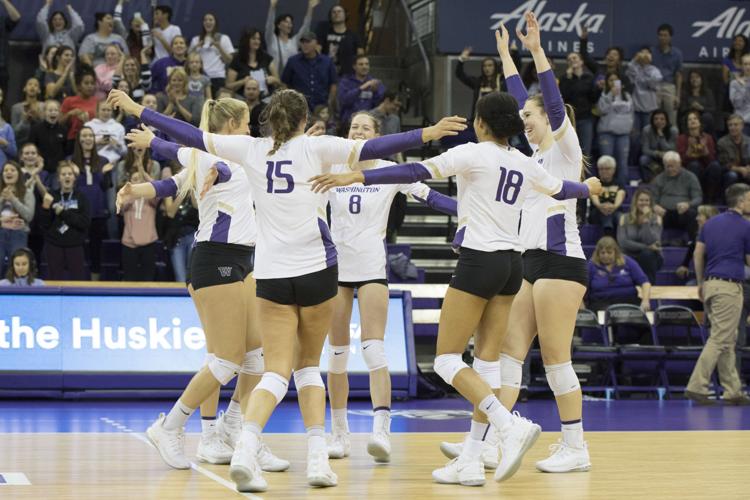 A 6 a.m. flight to Wisconsin on Wednesday. An 8 p.m. central time game Thursday. A flight back to Seattle later that night. Then, another game, at Alaska Airlines Arena, against the Badgers again, on Saturday at 6 p.m.
Somewhere in that schedule, the No. 10 Washington volleyball team will fit sleep and practice. They have Friday to make adjustments based on whatever happens in Madison against No. 9 Wisconsin on Thursday night. 
"It'll be interesting to come back to the next day and play them again here," sophomore setter Ella May Powell said. "We'll be able to learn a lot from our first match and whatever happens."
This type of scheduling isn't exactly common. The UW's last home-and-home was with Washington State in 2011, heading to Pullman to play the Cougars three days after hosting them, bracketing the Apple Cup. The last time it happened with a nonconference team was Gonzaga in 1990. 
Obviously, neither of those in-state trips were quite as far as Madison. 
But while it's a fairly unprecedented series for the Huskies, it's getting more common in top-tier college volleyball. No. 19 Illinois opened this season with a home-and-home series with Tennessee, and Stanford and Texas did it last September. Washington and Wisconsin are included in that group of perennial top-ranked teams. 
"For top teams it just makes sense," head coach Keegan Cook said. "'Let's play each other and learn a lot about what we should be doing.'"
In Week 1, the Huskies (7-1) were ranked No. 16, and the Badgers (4-2) No. 4. Since then, the Huskies have two ranked wins over then-No. 5 Illinois and then-No. 17 Creighton. The Badgers have two ranked losses, back-to-back to then-No. 11 Marquette and then-No. 17 Baylor. That evened things out enough that they're sitting right next to each other in the rankings, with the UW just a spot below No. 9 Wisconsin at No. 10. 
That, in itself, makes these two games important ones. 
"It's for sure unique, but I'm excited," senior hitter Kara Bajema said. "It's such a good test to play in somebody else's home and then to come back and play in your own home and see if you can match the intensity in both places and rise to any occasion."
The second half of the home-and-home will also be Washington's home opener, just in time for move-in. The Huskies have spent the entire nonconference season so far on the road, and there's two reasons for that. The first: They wanted to simulate December scheduling, where they'll likely be on the road for most of the tournament. 
The second reason is the audience. With classes not starting until September 25, Washington can't draw a student crowd until the conference season is nearly starting. With campus move-in dates starting the Wednesday the Huskies fly out to Wisconsin, they're hoping to come back to a big crowd. 
"Wisconsin is a good team and we're excited to have the Dawg Pack to back us up," Powell said. "That'll be a huge factor when we're there and here."
While Wisconsin's recent history against ranked teams hasn't been great, there's a reason they're still in the top 10. They have liberos that Cook says "would be liberos on almost any team in the country," and a tall line of middle blockers led by 6-foot-8-inch Dana Rettke. 
Wisconsin's block, especially, presents a challenge for the Huskies, who have spent most of the nonconference season working on hitting past their opponent's blocks. After tough games against Hawai'i and Illinois, where the block played a huge role, things started looking up this past weekend against Creighton. But the Dawgs still have work to do.  
"We were getting blocked a lot," Cook said. "This will be the ultimate test of that."
This weekend will be a tough test for the Huskies in general, with a busy travel schedule coming to an end with one final hurdle. 
"We're not going to get a lot of practice time, so when we are in the gym, just making the most of every situation and every touch," Powell said. "When we're traveling, just being smart with sleeping, taking naps, getting enough water."
Washington will play Wisconsin on Thursday at 6 p.m. PT, and will return home to play the Badgers Saturday at 6 p.m. PT. The game in Madison will be broadcast on FS1, and the game in Seattle on Pac-12 Networks. 
Reach Engagement Editor Hailey Robinson at sports@dailyuw.com. Twitter: @haileyarobin
Like what you're reading? Support high-quality student journalism by donating here.