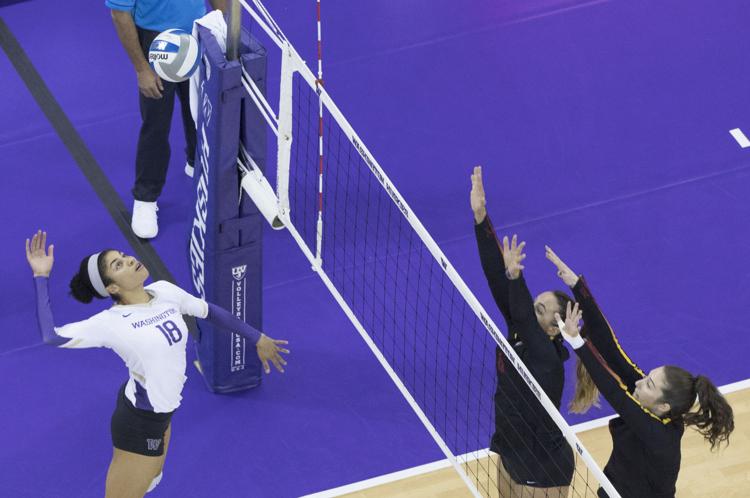 The first three sets were all close ones, but offensive struggles kept the No. 19 Washington volleyball team from winning sets two and three, leading to a 3-1 defeat to No. 14 USC (24-26, 25-22, 28-26, 25-18).
As a team, the Huskies (13-6, 5-4 Pac-12) hit .150. They looked fairly evenly matched against USC in the first three sets, but fell apart in the fourth set with 11 kills and nine errors on 36 attacks. The serve was improved from earlier struggles in conference play, and the Huskies balanced out aces and errors rather than following the trend of erring far more than acing.
Offensively, everything good came from Washington's outsides, especially junior Kara Bajema, who had a season-high 23 kills. At one point in the second set she had four in a row tie the match for the Huskies and give them a three point lead. She and sophomore Samantha Drechsel were the only two Huskies who made much happen offensively, their combined 40 kills making up 60 percent of Washington's scoring.
"Our offense is out of whack," head coach Keegan Cook said. "We're too left-side heavy, and against all the best Pac-12 teams it's just not going to work. Nice job by our two lefts to hang in there and fight for the most part. We need more from other people."
The lack of balance on offense wasn't the only thing hurting the Huskies. They struggled in the face of the USC block, but a lot of their hitting errors came from hitting a little too hard. More than once, the Huskies hit the ball out bounds three times in a row.
"You can't hit balls out if you want to beat good teams like USC," Cook said.
The first set wasn't the prettiest win, with hitting errors cropping up that meant the Huskies were fighting a battle past the normal 25 points. It was a hard-fought win, and Washington carried the momentum into the second set.
The Huskies went up 11-3 early on in the second, forcing the Trojans to use up their timeouts early. After that, however, USC went on an 11-3 run to tie the match up 14-14, Khalia Lanier's serve forcing the Huskies out of system.
"That second set I was not pleased," Cook said. "We had a big lead, we knew she was a great server. Within those nine points I think we hit three balls out back to back to back, one for each one of our hitters."
Despite the offensive struggles, it was a close match throughout. Set two ended with the Huskies only three points down, and set three ended a few points past 25. Had just a few balls gone the other way, the Huskies would've had a sweep instead of a four set loss.
"You're four points away from a totally different feeling, a totally different outcome," head coach Keegan Cook said. "I didn't think we played to any sort of standard that we're capable of, particularly on the offensive side of the ball."
The Huskies play No. 20 UCLA on Friday at 6 p.m. at Alaska Airlines Arena.
Reach Social Media Editor Hailey Robinson at sports@dailyuw.com. Twitter: @haileyarobin