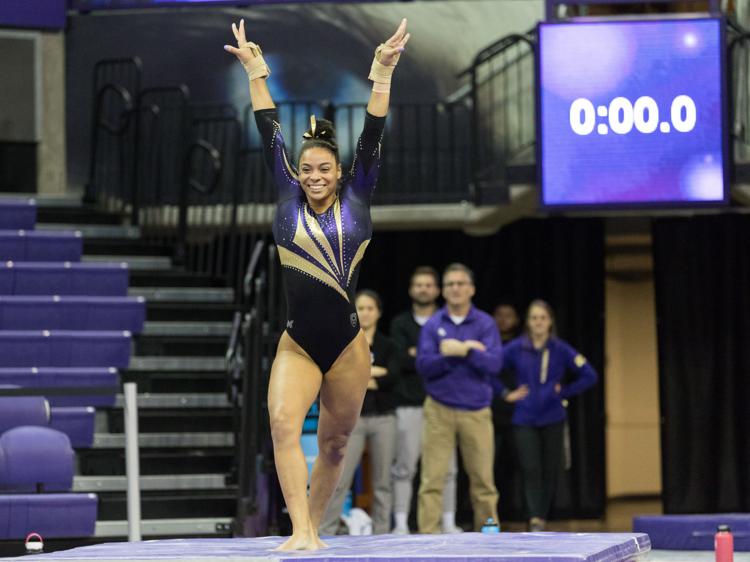 Following two back-to-back weekends on the road in California, the No. 13 Washington gymnastics team is back home to take on No. 22 Arizona on Saturday. Despite earning first place at each meet, the team is specifically aiming on raising its overall score.
At both the UCLA and Stanford meet, the Huskies were able to beat them with respective scores of 196.700 and 196.475, however after earning their first 197 of the season at the meet against Cal, the team is anticipating a second one and exceeding expectations.
"We weren't really that happy with this meet at Stanford just because we know that we have so much more capability," fifth-year senior Kristyn Hoffa said. "What we're focusing on right now is we're just really focusing on details in the gym; focusing on the small things because those lead into the big things."
Prior to the Stanford meet, senior Allie Smith picked up an injury, leaving her out of the vault lineup. She opened the season with a 9.800 on vault and matched her career-high with a 9.875 against the Bears. Sophomore Amara Cunningham, who also performs vault, is focused on perfecting those details without a key performer.
"We really want to focus on vault, losing Ali was pretty hard," Cunningham said.  "Now we just need to figure out how to get six consistent vaults in a row and focus on those landings and really just keeping them clean and paying attention to the details."
Aside from drilling down on details, a big part in the Huskies recent success lies within their confidence and energetic mindset. Their mentality before performing a routine on each rotation leads towards their physicality.
"Each event is like, it doesn't matter if it's the first rotation or the fourth rotation, each time we huddle up, and it's, we act as if it's our first rotation of the day," Hoffa said. "We're just starting to meet. So every single rotation is like the first one. Just want to go in with really nice high energy."
With the expectation of beating Arizona this Saturday, assistant coach Baely Rowe is making sure the team follows through with what the Huskies have been doing in practice and that it is translating onto the stage. 
"In gymnastics, here, we're looking at tenths of points," Rowe said. "There's little 10s of points that we can improve on every single event, whether that be a pointed toe, whether that be a landing, whether that be a straight knee, and so every single event, we're going to try to implement that and do that."
Although the team has been performing strong early this season, improvement on each event is the Huskies' main focus and key into not only beating the Wildcats, but racking up higher scores.
The meet starts at 2 p.m. at Alaska Airlines Arena on Saturday.
Reach reporter Monserrat Villaseñor at sports@dailyuw.com. Twitter: @monsevillas 
Like what you're reading? Support high-quality student journalism by donating here.