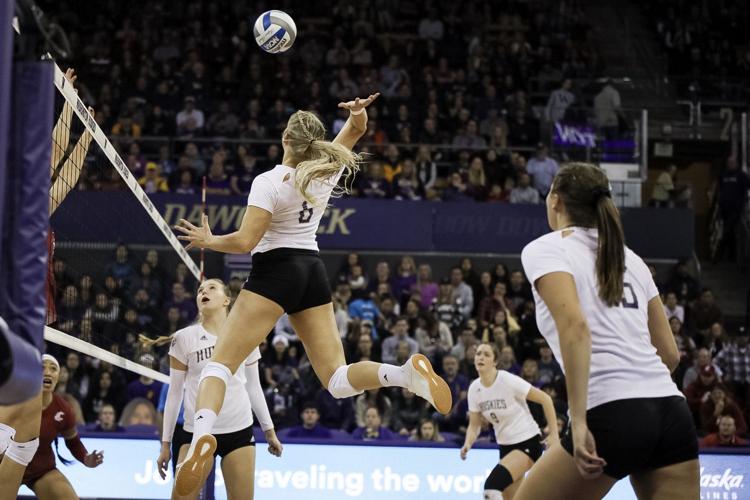 At the first practice of the season back in August, the No. 8 Washington volleyball head coach Keegan Cook was already talking about December. The NCAA tournament and the national championship are always the end goal for the Huskies, who didn't host last season for the first time in years and pulled off an upset to make the Sweet 16. 
This year, the Huskies (24-6, 15-5 Pac-12) are back in the ranks of hosting teams with a top-10 seed, but they aren't expecting things to be any easier than they were last December. 
"I think the margins are so slim at this point in the tournament," senior middle blocker Avie Niece said. "We had some team bonding [Monday]. Just working on our connection off the court and making sure we're all on the same page going into this tournament was a focus of ours."
Team chemistry has been a big part of Washington's success this season. Every starter has a number of tournament games under their belt. They know the pressure, and they feel more prepared for it than last season.
Washington's season ended, however, with a heartbreaking five-set loss to Washington State, a bubble team. That loss was a wake-up call for the Huskies, and it's having effects on how they prepare for the tournament. 
The Huskies got off to a rough start against the Cougars, following a trend of slow starts that's stretched almost the entire season. They've mostly gotten away with it, but they didn't against last Saturday.
Consistent play from the beginning is one of the keys to success in the tournament for Washington. 
"The goal is to perform at the highest standard possible," head coach Keegan Cook said. "We're looking for consistency each set we play."
The Huskies aren't just looking at what to fix from Washington State, but also what to fix from last December. After falling to Penn State in the Sweet Sixteen last season, they pinpointed the problems there. 
Washington's goal is making it as far as possible in the tournament, but it also has another goal. 
"Knowing that we did everything we could from start to finish, playing our hearts out, playing connected, having fun in every single game that we play," Niece said. "Just making sure we take each game as it is and enjoying every moment of this tournament."
Reach Engagement Editor Hailey Robinson at sports@dailyuw.com. Twitter: @haileyarobin
Like what you're reading? Support high-quality student journalism by donating here.