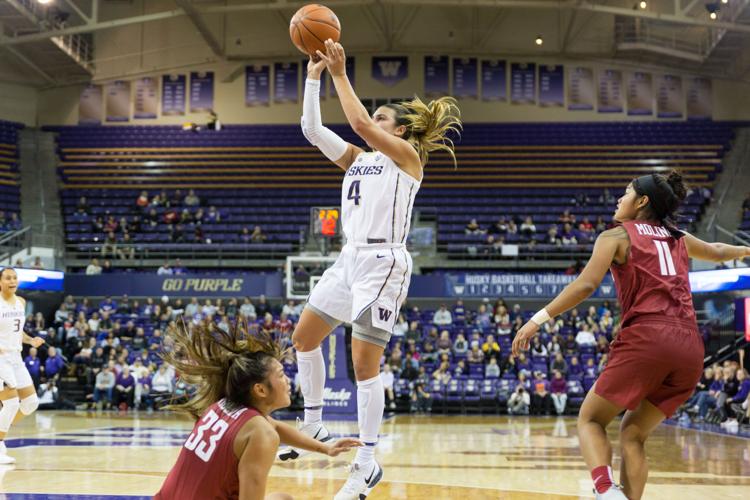 Facing off against the third top-25 team in its last four matchups, the Washington women's basketball team fell in their third straight conference game to No. 11 Oregon State, 78-67.
The Huskies (7-8, 0-3 Pac-12) were again plagued by poor shooting, and were at the mercy of Meridian, Idaho-native Destiny Slocum.
In the first half, Washington shot a measly 28 percent from the field, just 10-of-35 and 3-of-10 from three-point land. Scoring just 26 points, the Beavers' (12-2, 2-0 Pac-12) Slocum scored 18 points of her own in the first half, with four made threes.
However, the Huskies wouldn't go away. They started the third quarter on a 10-to-4 run to narrow the deficit to just six points three minutes into the second half.
But again, the Dawgs gave up the big run, and couldn't overtake the No. 11 Beavs. Oregon State went on a 14-5 run to end the third quarter, and continued that with 7 straight points in the fourth to put Washington away for good.
If you take out Washington's 5-of-8 shooting performance at the beginning of the third quarter, the Huskies shot just 31 percent from the field.
However, one of the bright spots for the Huskies has been the strong performance of sophomore guard Alexis Griggsby, who has shot lights out in her last two games. Starting her first game of the season against Oregon, the sophomore has made the most of it, shooting 15-of-25 from the field, 11-of-18 from distance, with 41 total points.
This also marks the third straight game where Washington has given up a career-high to an opposing starter, with WSU's Borislava Hristova scoring 38, Oregon's Erin Boley scoring 28, and OSU's Slocum scoring 30. All made more than five three pointers.
Up next the Huskies will take on Colorado at Alaska Airlines Arena next Friday.  
Reach Assistant Sports Editor Alec Dietz at sports@dailyuw.com. Twitter: @AlecDietz
Like what you're reading? Support high-quality student journalism by donating here.