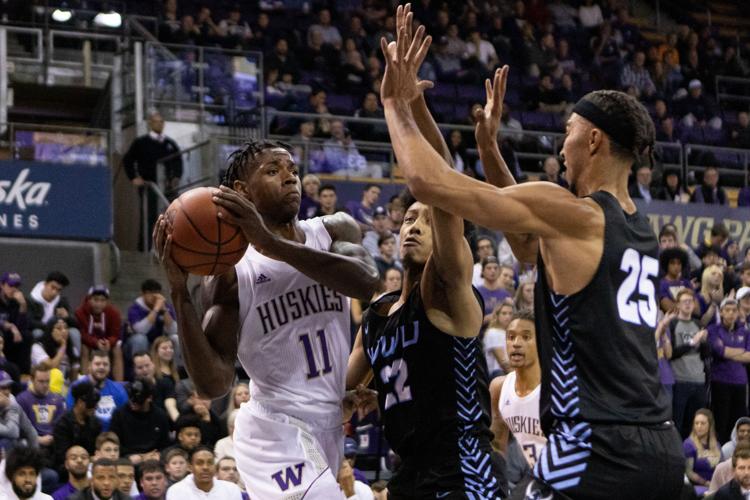 Staring down a 10-point deficit with less than seven minutes to go in the game, the Washington men's basketball team came up big in the closing minutes to win its season opener against No. 16 Baylor, 67-64. 
The Huskies (1-0) closed the game on a 16-3 run, spearheaded by Nahziah Carter's shooting and a stifling defense that held the Bears (1-1) to just one made shot in the final minutes. After Carter tied the game with a three-pointer — his fourth of the game — freshman Isaiah Stewart hit a short jumper with less than 30 seconds to go to take the lead. 
On Baylor's final possession, Hameir Wright blocked the potential game-winning layup, and the UW came up with the big season-opening win. 
The first half was a sloppy one for the Huskies, who finished with 15 turnovers in the first half and just 10 made shots. While the UW was able to keep it relatively close in the first half, shooting 40% from the floor as opposed to Baylor's 33%, it just couldn't claw its way back from a deficit in the opening frame. 
Star freshmen Jaden McDaniels and Stewart had just five, and six points, respectively, as Washington trailed 31-24. 
The second half started with a renewed effort to get the ball to the pair, and when the final buzzer sounded, Stewart finished with 15 points, and McDaniels dropped 18. Carter led the Huskies in scoring with 23 points on 8-of-15 shooting from the field. On the defensive end, Wright led the way with five blocks.
The Huskies will take the floor next against Mount St. Mary's at 6 p.m. on Tuesday for their home opener. 
Reach Sports Editor Alec Dietz at sports@dailyuw.com. Twitter: @AlecDietz
Like what you're reading? Support high-quality student journalism by donating here.