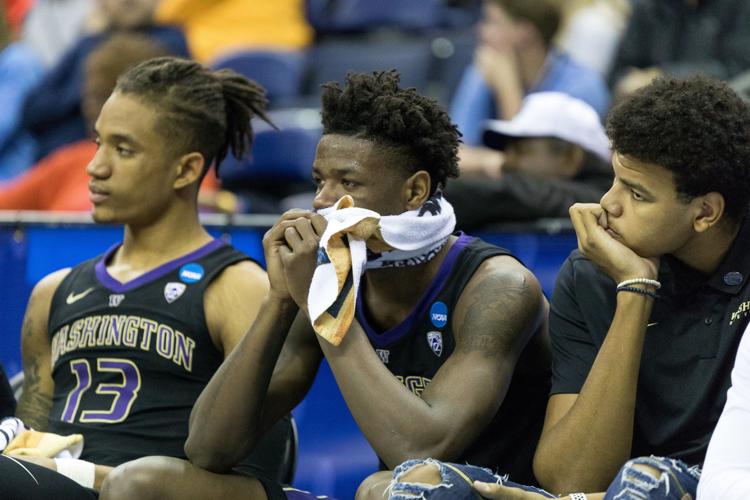 COLUMBUS, Ohio —  The Washington men's basketball teams season ended in Columbus, Ohio after an 81-59 loss to North Carolina in the second round of the NCAA Tournament.
The No. 9 seed Huskies (27-9, 15-3 Pac-12) just did not have enough firepower to matchup with the top-seeded Tar Heels (29-6, 16-2 ACC). Senior Luke Maye led the way for North Carolina, especially on the glass as he hauled in 14 rebounds to go along with 20 points, most of which were in the middle of the UW zone defense. Nassir Little also dominated down low on his way to 20 points.
"They remind me of the Zags a lot, of Gonzaga," head coach Mike Hopkins said. "They have really good big guys that are great interior passers and guys that can operate in that high post area and it is a hard cover for us."
The Tar Heels' physical play on the glass was tough against a Washington team that ranks near the bottom of the country in rebounding this season. North Carolina outrebounded the UW 48-to-24. That physical play also showed up in the post where the Tar Heels had a 38-to-24 edge.
"We flew around for the most part on defense, but the rebounding killed us," Thybulle said. "They are a big team, a strong team, physical team and we weren't able to get back and grab a lot of those rebounds from the missed shots that we forced."
Washington kept it close, trailing by just eight at the break, and a David Crisp three out of the break cut the deficit to five, but that would be the closest the Huskies would get in the second half. Unforced errors by UW and strong shooting by North Carolina allowed the Tar Heels to go on a 13-0 run and push their lead to 18 points.
"Every time we kind of swung and hit them a little bit they came back with a haymaker," Hopkins said.
The Huskies did not let the game get out of hand, exchanging buckets with neither team going on much of a run the rest of the way, but the talent and experience of Roy Williams' squad were just too much for the Huskies to compete with for the majority of the second half.  
"I thought we got some good looks, we just had one of those shooting nights," Hopkins said. 'When you play against a team like this almost everything has to go right. You don't have a large margin for error and we just didn't have enough."
The UW's four departing seniors did not have the ending they imagined. Matisse Thybulle was held to just two points on 1-for-8 shooting in his final game in purple and gold. David Crisp also had an inefficient afternoon, going 2-for-9. Dominic Green had just three points. Noah Dickerson had a decent game with 10 points on 4-for-7 from the field with six rebounds against Luke Maye, but it was far from his 20-point, 12-rebound effort against Utah State in the first round.
That subpar performance by the four seniors does not diminish what the group did this season.
"You want to be able to play on this stage, win your league, say you are a champion, all those things," Thybulle said. "I was able to accomplish all of that this year with three of my senior teammates who we have been through it all together... to be able to bond together and achieve so much in my last year, I couldn't have imagined it coming through and I'm glad I was able to do it with these guys."
Reach reporter Kyle Gehler at sports@dailyuw.com. Twitter: @KyleGehlerLike what you're reading?
Support high-quality student journalism by donating here.