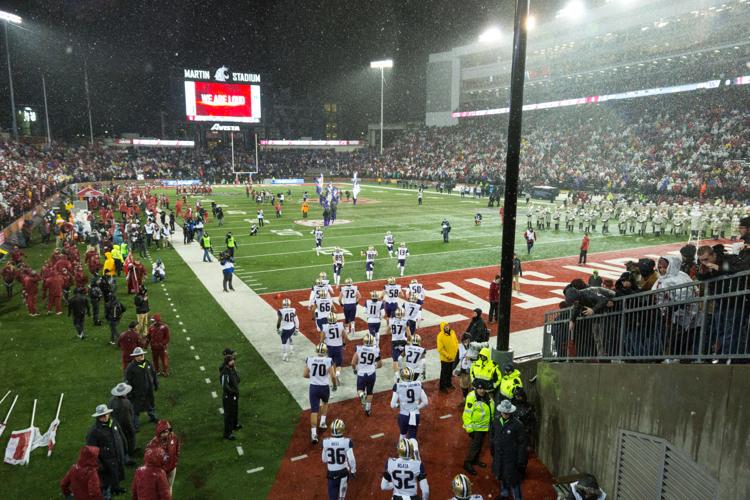 It's been awhile since Trey Adams' first spring practice, and over the course of his time at the UW, he's built up plenty of wisdom to share with newcomers to the program. His first bit of advice was a simple one: be on time.
"That's off-the-field stuff, but be on time," Adams said. "You don't want to be late to anything here, or else you're going to be doing stuff."
After a winter of recovery and three spring practices now, the offensive line as a group is getting time to gel, bringing in new faces and giving everybody reps.
"I feel like this group this year is a lot more tight that it ever has been, just because everyone is equal-minded, we all think the same," Adams said. "The offseason is important. We had a really good offseason in winter, and that was good."
This early in the spring, the O-Line is focusing on versatility and the next-man-up mentality that the coaches preach so much. Some of that is due to graduation; the Huskies need to replace two-time all-Pac-12 Kaleb McGary at right tackle. Right now, the battle there seems to be mainly between Jared Hilbers, Henry Roberts, and Henry Bainivalu, who all saw time at left tackle when Adams was out with an injury last season.
Other mix-ups come up for other reasons. Like, for instance, when your starting center has class.
Due to his academic schedule, senior All-Pac-12 center Nick Harris has to miss the later chunk of practice some days, and Monday was one of them.
Not that getting the backups some first-team reps is a bad thing. Quite the opposite, in fact.
"I think it's awesome, because that can happen at any moment in any game," offensive coordinator Bush Hamdan said. "As we know, quarterbacks can kind of be high-maintenance guys, and they like the snap one way or another, so any time we can change the picture on guys, it's quality, especially in spring."
In Harris' place, two linemen took the snaps for the first team. First up was sophomore Cole Norgaard, who saw time at center last season against North Dakota.
"We've been working on a lot of little things, and so far we've been seeing improvement in that," offensive line coach Scott Huff said.
Corey Luciano also had his chances with the starters. Luciano, who played with Jake Haener and Peyton Henry at Monte Vista High School in Danville, Calif., played a year of junior college ball before sitting out last season to come to the UW with three years of eligibility.
"There were a lot of reasons that we liked Corey, but maybe the biggest was just how football-savvy he was," Huff said. "You could tell in talking and recruiting him that he was totally into football. He wanted to know more than his assignment, and that's the starting point for the mental makeup of the center."
Other notes
- Keith Taylor had the only takeaway of the game, jumping an out route to pick off Jake Haener on a bootleg.
- Despite only having the one pick, the defense dominated for the most part, especially in 7-on-7 drills. Haener had the only two good throws of the day for the offense, a 35-yard completion up the seam to Andre Baccellia in 7-on-7 and a 48-yard touchdown to Austin Osborne in 11-on-11.
- In the first team kicking drills of the spring, Henry went 2-for-2 from around 35-yards.
- The huge early pool of people taking kick-returning reps: Baccellia, Salvon Ahmed, Chico McClatcher, Sean McGrew, Jordan Chin, Trey Lowe, Richard Newton, Myles Bryant, and Kyler Gordon
- On top of Ahmed, who saw time there last season, three offensive players took reps at gunner on punt coverage: Newton, Hunter Bryant, and Marquis Spiker
Reach Sports Editor Josh Kirshenbaum at sports@dailyuw.com. Twitter: @J_Kirshenbaum
Like what you're reading? Support high-quality student journalism by donating here.