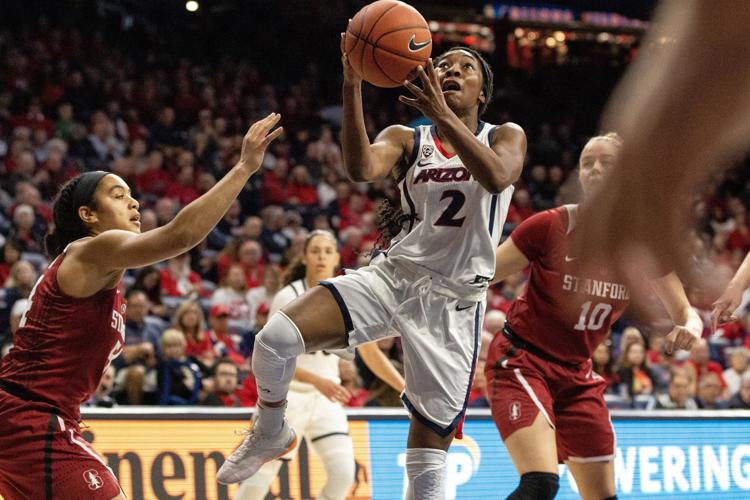 For the first time since 2017, former UW freshman standout Aarion McDonald will return to Alaska Airlines Arena after transferring to Pac-12 rival Arizona.
While the Huskies (8-15, 1-10 Pac-12) have put most of their efforts into winning the games they play this weekend, the players are excited to see their former teammate from two years ago.
"She's one of my sisters," junior Amber Melgoza said. "But when I come to a game I try to eliminate that factor of it, I just play to hopefully get a win out of it."
However, despite the focus on beating McDonald and the Wildcats this Thursday, there will be a weird, lingering feeling among the players that knew her as a Husky.
"There's no way it's not just a little bit weird," senior Jenna Moser said. "It's always weird seeing the Arizona on her chest, but overall we're just happy that she's happy. Maybe not so happy when we're chasing her down the court because she's so fast."
After sitting out last season due to NCAA transfer rules, McDonald has put together one of the best statistical seasons in women's basketball thus far this season. Averaging 25.3 points per game, and leading the Wildcats in assists and steals, the sophomore guard has become one of the more dominant and dynamic players in today's game.
Her points average ranks second best in the nation, and she has taken almost 200 more shot attempts than the Wildcats' next leading scorer, Cate Reese.
From the Arizona perspective, all we know is that former UW assistant coach and now UA head coach Adia Barnes says she has a ton of respect for the program and the people in it.
"I love the administration," Barnes told SB Nation's Arizona Desert Swarm. "I have the utmost respect for Jen Cohen, their AD, a lot of the academic advisers, who I have a really, really close relationship with. So I do love a lot about that school."
McDonald was not available to the media this week, but according to Barnesher star guard was ready for a homecoming.
"I don't think there are any sentimental ties, but she has friends there and she did play there and has fond memories with a top team," Barnes said.
In 2017, after she had made the decision to transfer, McDonald said that she mainly transferred to Arizona because she would be closer to her family. She never contemplated following previous UW head coach Mike Neighbors to Arkansas.
"No, he's too far," McDonald told Recordnet.com in June, 2017. "I'm a real family person. I just wanted to be closer to my family."
Huskies want to slow it down against another top-25 team
After struggling with USC and UCLA, who pushed the Huskies and forced them to speed up their style of play, Washington is looking to slow it down against yet another ranked Pac-12 team in No. 20 Arizona State.
"They are going to get up on your defensively," Moser said. "They are a well-rounded scoring team. Playing at our own pace, and being able to match their physicality will go a long way."
The Sun Devils are known to have a very aggressive defensive style, which is one that the Huskies have been trying to implement in the Jody Wynn era. While they are trying to speed the Sun Devils up and force turnovers, the Huskies will have to focus on making sure that they aren't doing the same thing.
"We definitely need to play with much more poise on the offensive side of the ball," Wynn said. "And at our own pace, and not get caught up in being sped up and turning the ball over."
Reach Assistant Sports Editor Alec Dietz at sports@dailyuw.com. Twitter: @AlecDietz
Like what you're reading? Support high-quality student journalism by donating here.