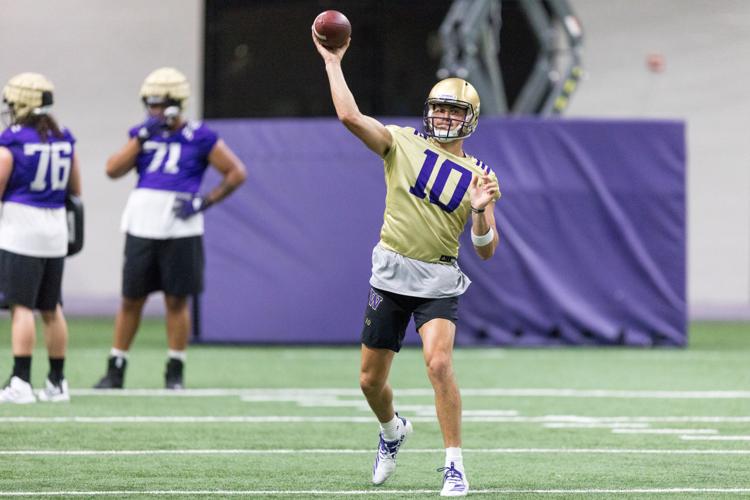 A year ago, Washington entered the season with sky-high expectations and a large group of three- and four-year starters at a slew of key positions. 
Jake Browning and Myles Gaskin were entering their fourth years as UW's main offensive backfield tandem, and Taylor Rapp, Byron Murphy, Jordan Miller, and JoJo McIntosh all contributed to one of the most experienced defensive backfields in all of college football. 
Entering 2019, all those faces are gone, replaced by a talented group of unproven, young playmakers. 
"Now comes the real stuff, now comes the real game with the real lights flashing on everybody," defensive coordinator Jimmy Lake said. "Nobody is going to play perfect, and we don't expect guys to play perfect, but we want them to play hard, play fast, and I'll think we'll do that."
The new headliner on offense is Jacob Eason, a former five-star prep quarterback from Lake Stevens who sat out the 2018 season after transferring from Georgia. The 6-foot, 6-inch, 227-pound quarterback has been the subject of a great deal of hype since his transfer in 2017. Now he'll have to do everything he can to live up to it this Saturday against Eastern Washington after being named the starter last week. 
He'll be joined in the backfield by Salvon Ahmed, who has shown flashes of brilliance as a reserve change-of-pace tailback behind Gaskin the past two seasons, but hasn't shown he can be a consistent four-down back yet. 
Besides those two, the offense will be welcoming back a group of wide receivers and offensive linemen that have plenty of depth and experience at the UW. While the line, led by Nick Harris, Trey Adams, and Jaxson Kirkland have proven that they can play consistently, the wide receivers have yet to produce a consistent playmaker on the outside or in the slot. 
"We've got a lot of guys there, we need some guys to go out, and that group, to take the next step," head coach Chris Petersen said. "When you think about this is a group, experienced, playmaking crew, that's one group that really needs to come on for our offense to take the next step."
The core of Aaron Fuller, Ty Jones, and Andre Baccellia have shown in bursts that they can be effective, but they haven't yet put it together for a full season. With the re-addition of Chico McClatcher to the starting offense, the Huskies have plenty of tools to work with entering the season. 
On the defensive side of the ball, which has traditionally been the stronger unit for the Huskies, there are more questions. Leading tackler Ben Burr-Kirven is gone, along with middle linebacker mate Tevis Bartlett and Greg Gaines up front. Everyone aside from Myles Bryant is gone from the starting secondary, but the Dawgs do return Elijah Molden and Keith Taylor, who weren't starters a season ago, but have played significant snaps throughout their career.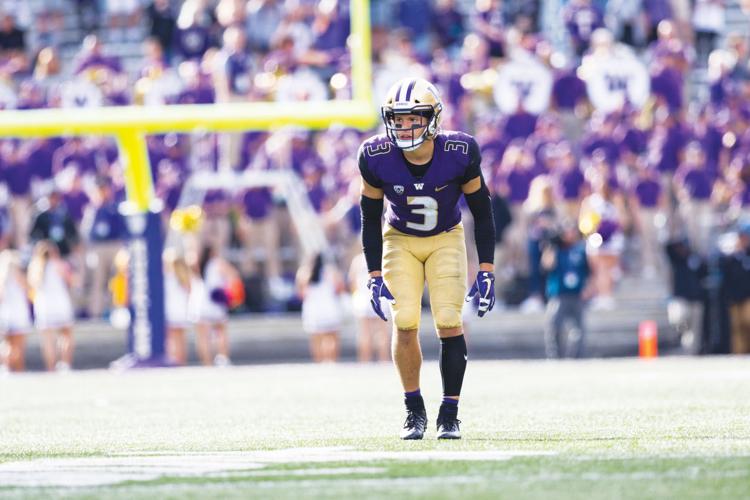 That leaves room for plenty of new faces, to make their first career starts, or play in their first career game this Saturday. Where last year, not one true freshman burned their redshirt, that is expected to change in a big way this season, especially in the defensive backfield. 
After redshirt seasons a year ago, Kyler Gordon, Dominique Hampton, and lineman Tuli Letuligasenoa were all listed in the UW's two-deep, with Gordon listed as a starting corner. Among true freshmen, Asa Turner and Trent McDuffie were among backups listed, and spring enrollee Cameron Williams is the only true freshman slated to start this weekend. 
"We have a lot of confidence in them," Lake said. "We know they're fast enough, we know they're tough enough, now they just have to trust their keys and go make plays." 
But the defense won't be entirely comprised of underclassmen, as senior linebacker tandem Brandon Wellington and Kyler Manu are set to start a season for the first time as starters in the middle. 
"It's going to be fun," Wellington said. "We had to wait for our time, we trusted the process and we stuck it out when times were hard. Now we're excited to run out there as starters. We're going to embrace the role and play how we've always been playing and trust our roles and our technique."
With what Lake calls a "good balance" of veterans with ample playing time on defense, and a squad full of talented but unproven playmakers on offense, the fans, media, and coaches alike are all wondering what this team will look like as it opens against Eastern Washington at Husky Stadium. 
"It's going to be fun to watch these guys play against somebody else," Lake said. "We've been battling against our offense all spring long and all training camp long. They know our defense and we know the offensive plays they're going to run at us … I think our guys are all ready to hit somebody else."
Reach Sports Editor Alec Dietz at sports@dailyuw.com. Twitter: @AlecDietz
Like what you're reading? Support high-quality student journalism bydonating here.