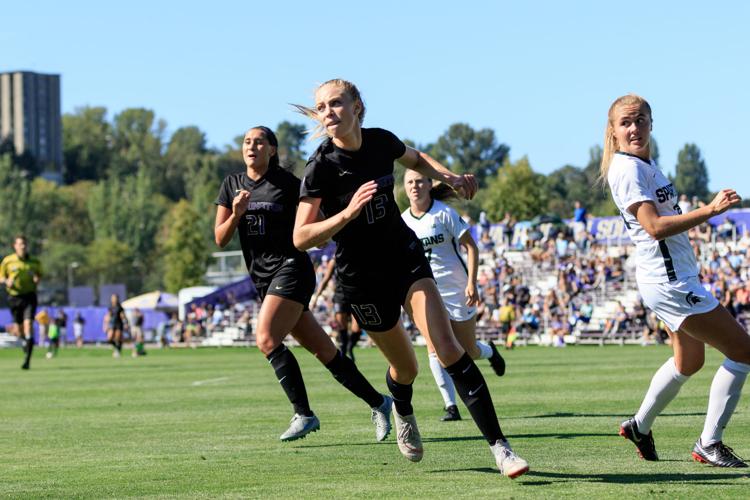 There are only three seniors are on this Washington women's soccer team, and Pascale Dumesnil is the only starter among the trio. Although she is not a captain, the forward feels she and the other seniors can still offer leadership to the rest of the team.
"Since there's so few of us, we have to have bigger voices," Dumesnil said. "It's also been helpful because the sophomores and the juniors all play a role in helping the team and helping the freshman find a place here."
Head coach Lesle Gallimore has recently stated the team's need for goal scoring from the forward position. Dumesnil has started to step into that role, scoring two goals in the team's past three games.
"She just has a composure about her this year that you see in veterans, and I think players look up to her to kind of keep things calm when things are hectic, and also lift them up when things are not going our way," Gallimore said.
In just eight games, the she has already logged a career high with six points, good for third on the squad.
"She's just been really comfortable on the ball, and really comfortable taking on, and has been one of our most consistent performers." Gallimore said.
Dumesnil has come a long way in her time at the UW, by starting more games in each consecutive year, and improving her goal scoring as well. But she says like the part of her game that she's had the most growth is in her mental game.
"I feel like when I came in I was really nervous, and felt like I would get really agitated before games," Dumesnil said. "I feel like just loosening up and getting more comfortable with having this position on the team really helps me with my focus."
The Dawgs finished their nonconference season with a 5-2-1 record, and will kick off Pac-12 play on the road Saturday at 12 p.m. against the No. 3 USC Trojans. USC holds a 6-0-1 record and a +20 goal differential.
Last year the Huskies closed their nonconference schedule at 7-2-0, then struggled through Pac-12 play, going 2-6-3 in conference. Dumesnil's main advice to her teammates as they approach these last 11 games is to stay focused.
"Just keep your head in, its a lot of games, and it's a grind, but just think about the details and all the little things to do well, that's what's really gonna help the team," Dumesnil said.
Reach contributing writer Josh Eddy at sports@dailyuw.com Twitter: @JoshTreEddy